You know you want to get your family on a healthy path. Everyone can use some more vegetables and fruits in their diet, right? But why doesn't it happen? You go to the grocery store all pumped up to make changes, but by midweek, you're ordering pizza again. That's because there's a breakdown between what you know, what you want to do, and actually doing it.
So here are five tips to making healthy changes (without a lot of effort!) that will benefit you -- and your family:
1. Clear your kitchen
This step is important because your family will eat what is available. So take the time to do a pantry cleanout to rid the environment of what is not going to nourish your family in a healthy way.
2. Schedule weekly shopping and food prep
It is one thing to get to the store to buy the watermelon, but if you don't cut it up and put it into containers? Well, if you're like me, that means a lot of the time you end up throwing it away when it gets too old. Instead, pull out your calendar and create an appointment called "FOOD." Yes, I'm serious! Make an appointment for food. Add in time for shopping, food prep and batch cooking. If it's in your calendar, you'll more than likely get it done!
3. Include the kids
Kids can be involved in every step, from choosing recipes to prep to actual cooking. When they're involved in the process -- rather than just sitting down at the table to eat what you've prepared -- they're more likely to try something new.
4. Explore new foods
Make it a family goal to try one new vegetable, fruit, or bean every week. Have your kids look around the produce department to find something new to them and then, as a family, research how to prepare it and what benefits it brings to your body.
5. Lead by example
You know you can't expect your kids to pick up carrot sticks and hummus while you are downing pizza! Communicate with your family when you're struggling with making healthy food choices. Work on it together and you'll have a better chance of succeeding together.
Making one change at a time and sticking with it on a consistent basis will result in healthy habits for a lifetime! Cheers to happy, healthy living!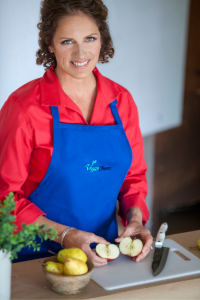 Lisa Rose, owner of VeganCheers, is passionate and enthusiastic about educating others about the benefits of plant-based eating and vegan living through one-on-one coaching, in-home cooking guidance, group presentations, employee wellness, and cooking demonstrations. For more information, visit www.VeganCheers.com.