October is Down Syndrome Awareness Month. Macaroni Kid Erie asked Sarah Basile to write about her experiences mothering three darling daughters with Down syndrome. Sarah, whose family lives in Erie, wrote about one incident and the lessons she took from it. Here's her story:
On a beautiful Erie summer day nine years ago, our little family of three sat at an outdoor dining table in anticipation of our toddler daughter's favorite meal of "burger and fries!"
An older wide-eyed toddler and her dad sat down at the table next to us.
The little girl stared at our daughter intently.
"Dad, what's wrong with her eyes?" she asked him.
Clearly hoping we didn't hear his curious daughter's question, he tried to distract her attention away from our daughter.
But, like any toddler, she didn't give up. She asked him a few more times, clearly genuinely curious about the differences she saw in our child's facial features.
Her dad began to look increasingly uncomfortable and avoided eye contact with us at all costs.
My heart truly felt bad for him as he nervously pondered how to address the situation.
I could have stepped in to answer — as I've done many times since that day — but this was the first time since becoming a mother to our daughter with Down syndrome that another child had so loudly announced our daughter's differences.
So I too was struggling with how to handle the situation.
We all sat in the uncomfortable quiet for what felt like forever.
Then the little girl demanded again:
"Dad! Look at her eyes! Why's her eye like that?"
I felt a twinge of anxiety as tears welled in my eyes, nearly exposing my sensitive "mama heart" for the world to see.
That was when the dad finally answered his daughter.
"They're beautiful, aren't they?"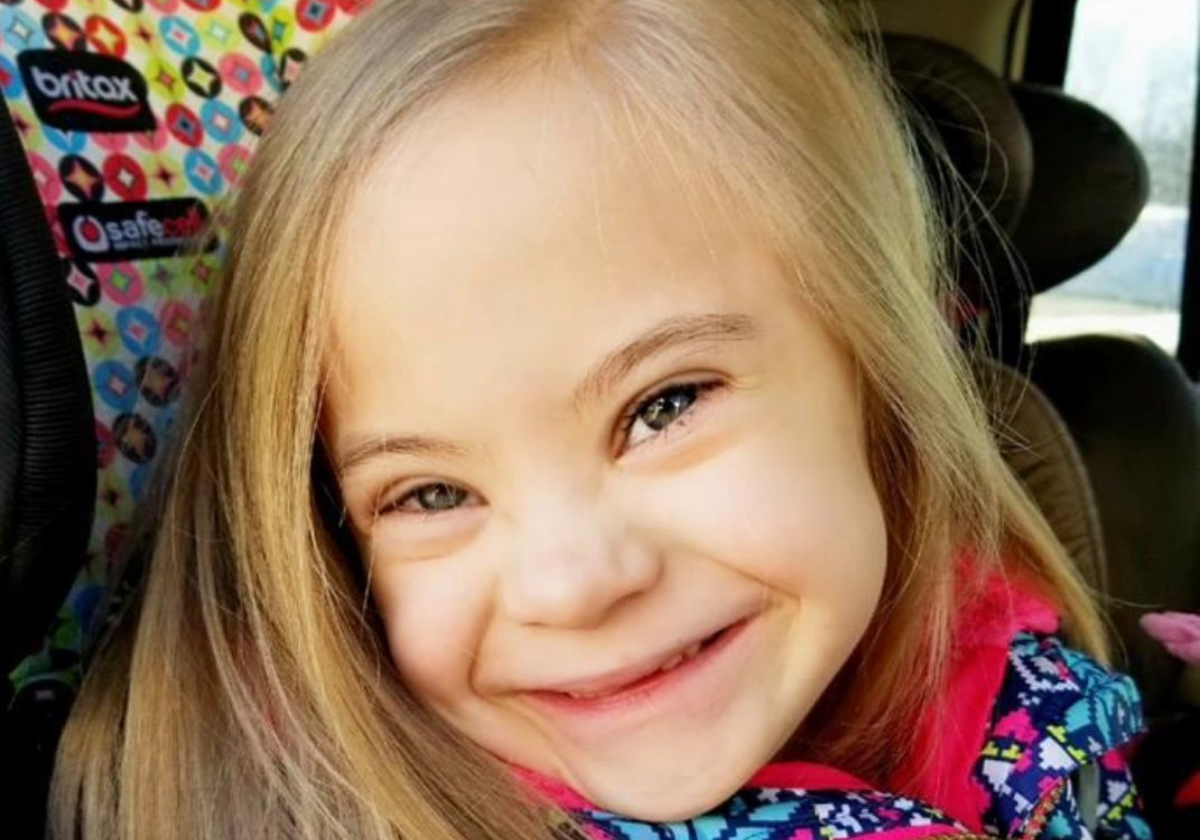 The little girl looked up at her Daddy, clearly one of the people she trusted and adored most in her little life.
"Yes," she said.
And just like that, in only four exquisite words, this wonderful father was able to teach his daughter an amazingly beautiful lesson.
His simple — yet profound — answer satisfied his daughter's curiosity and instilled the value of all human life.
No matter the differences we may see in others, we are all worthy and beautiful.
I have a feeling on their ride home that day the dad probably told his daughter a little more about Down syndrome or disabilities using words a toddler could understand. But even if he didn't address it further, I felt his simple answer was exactly right.
I hope as that little girl gets older she continues to ask questions about things she doesn't understand or differences she sees in people because that's the way to build understanding, empathy, and create a world full of leaders who will not only tolerate, but embrace and respect all human beings regardless of their differences.
Want to know more about Down syndrome? The National Down Syndrome Society offers a Q&A for kids, fact sheets and other resources.
All photos courtesy of Sarah Basile.