I don't know about your family, but mine is determined to SUMMER OUT LOUD!
Between COVID and a long Erie winter, we are taking advantage of every opportunity to get outside, get active and HAVE FUN this summer.
So I'm excited for my family to join in the YMCA of Greater Erie's SUMMER OUT LOUD Challenge — a FREE three-week challenge that ALL are welcome (you don't have to be a Y member!) to take part in. To play, your family will complete a Summer Out Loud passport filled with creative ideas and activities to do together in Erie. Once you've completed your passport you'll be eligible to win great prizes!
---
Want to take part in the YMCA of Greater Erie's Summer Out Loud challenge?
Text Summer to 844-889-6222 by July 10.
The Summer Out Loud Challenge begins July 12.
Get more information here.
---
Macaroni Kid Erie loved the family fun potential of this idea so much that we are proud to help support the Summer Out Loud Challenge, along with UPMC Health Plan and WQLN Public Media.
The Summer Out Loud Challenge launches July 12. All you have to do to opt-in is text SUMMER to 844-889-6222 and you'll be entered to win a one-year household membership to the YMCA of Greater Erie, family prize packs valued at $50 each and the national grand prize of a family vacation of your choice (up to $5,000 value)!
After opting-in via text, follow the prompts to register for the challenge. You will receive three texts a week filled with motivation, workouts, and family fun activities to try throughout the challenge.
You can visit any YMCA of Greater Erie location to pick up a Summer Out Loud passport, or download a copy here and print it out at home!
Passport challenges include family-fun activities like:
To be eligible for the grand prizes, you must opt-in to the challenge by text, and complete and return the passport to your local Y by Wednesday, August 4.
The grand prize winner will be announced on Friday, August 13.
"Kids and parents are eager to get out of the house and enjoy some of their most cherished summertime traditions and activities, said Gerry Vandemerwe, YMCA of Greater Erie President and CEO. "With sunny days finally in the forecast, we encourage families to participate in this free challenge to rediscover sunshine, optimism, and what it means to live Summer Out Loud!"
---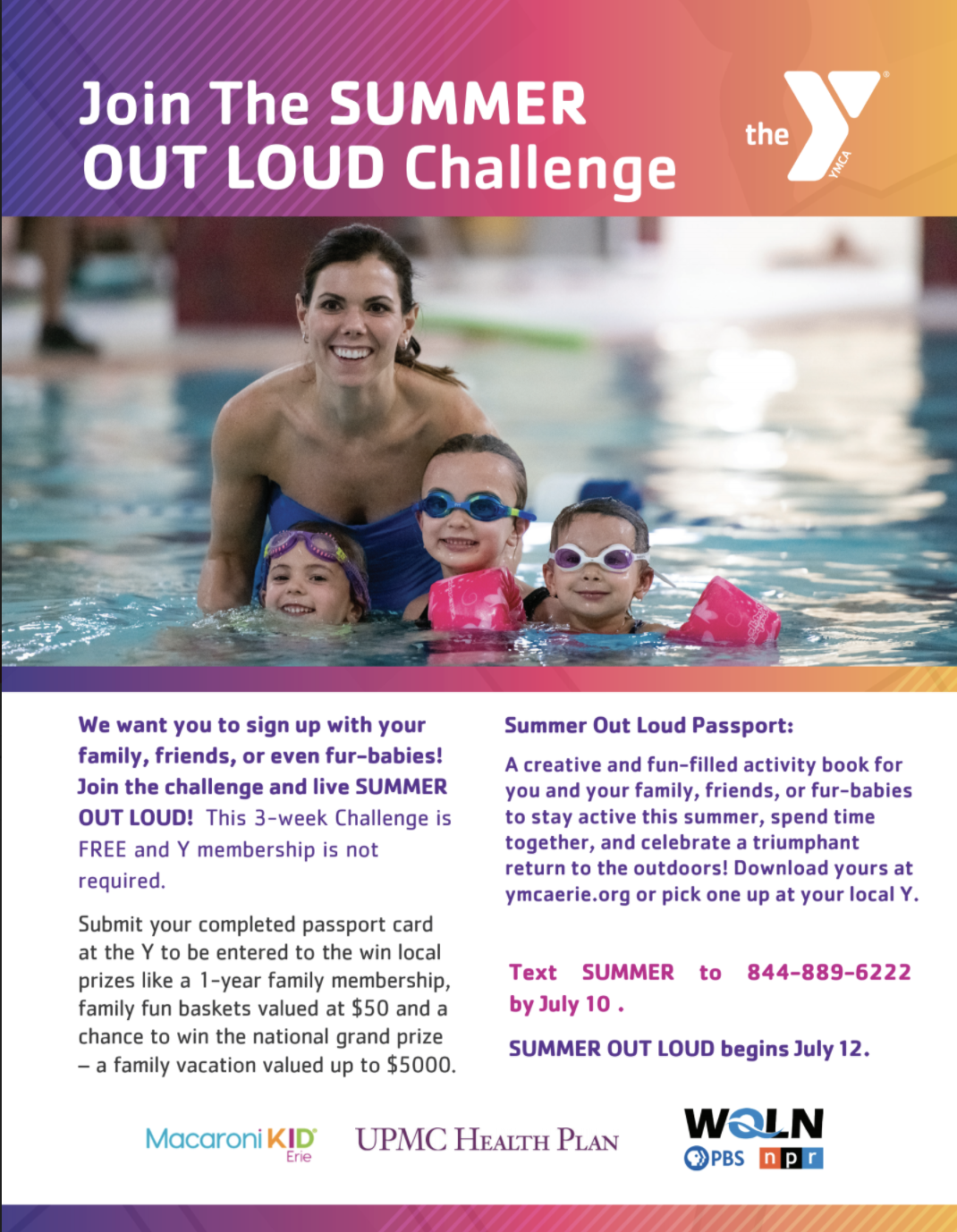 ---