Gannon Women's Basketball Camps will teach the individual fundamentals and skills of basketball, along with emphasizing teamwork, character traits and life skills necessary for success, on the court and off. We are excited to work with young people and passionate to help them grow.
—Head Coach Cleve Wright
Please note: Spots are extremely limited for Gannon Women's Basketball Camps, so register today!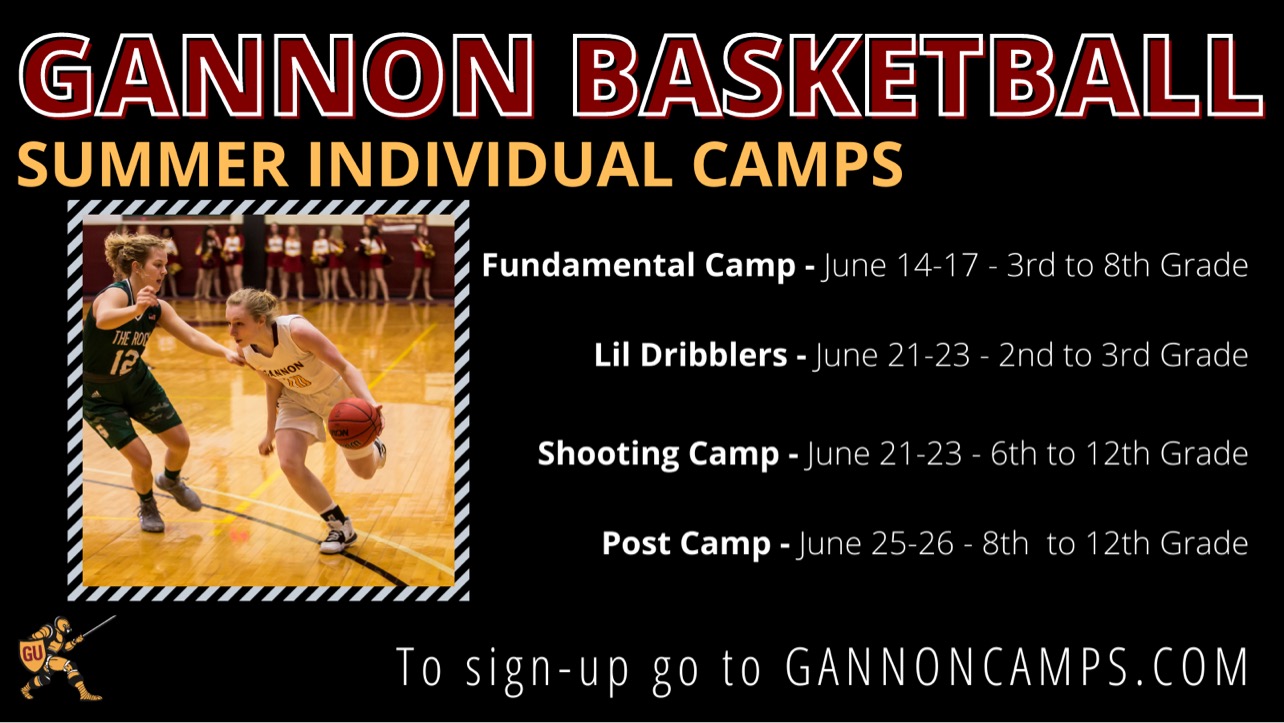 Camps will be offered in June for girls in grades 2-12. The Gannon Women's Basketball Camps include:
---
FUNDAMENTAL CAMP
Grades 3-8
This camp will emphasize the FUN in the fundamentals of basketball. We will teach shooting, passing, rebounding, dribbling and defense to each camper. Stations and competitions will be used to reinforce and evaluate the skills taught. Each camper will receive a fundamental evaluation, T-shirt, and basketball.
Time: 9 a.m. to 4 p.m. June 14 to 17
Cost: $125 (After Camp and Lunch Bunch Options available for additional cost)
---
LIL DRIBBLERS
Grades 2-3
A fun introduction to the game of basketball, campers will learn the fundamentals of dribbling, passing, and shooting. Lots of smiles and learning.
Time: 9 a.m. to noon June 21-23
Cost: $80
---
SHOOTING CAMP
Grades 6-12
Individual attention and focus on basic concepts of shooting highlight this camp and make it one of the best around. Technique will be drilled through repetition of specific drills, stations and competitions. Age and skill level groups will be established to provide the proper attention to each individual. Each camper will receive an individual shooting evaluation, t-shirt and basketball. Hundreds of girls have attended this camp over the years
Time: 6 to 9 p.m. June 21-23
Cost: $95
---
POST CAMP
Grades 8-12
This camp will focus on post play. Coach Wright and staff will teach low post and high post offense, as well as defense in both areas. Our team is known for post/inside play and this camp will expose players to the techniques and mentality of playing the post position. Each camper will receive a t-shirt and an evaluation with improvement plan.
Time: 6 to 9 p.m. June 25 and 9 a.m. to 4 p.m. June 26
Cost: $95
---
🌸🌸🌸