Did you miss the first story in this series exploring Chautauqua County? Find it here.
In late February I was lucky enough to join four other Macaroni Kid publishers and their kids for a three-night getaway at western New York's two premier resorts — Peek'n Peak Resort in Chautauqua County and Holiday Valley in Cattaraugus County. 
After two nights at the Peek, we were off to Holiday Valley. 
On the way, we decided to take a side trip to Griffis Sculpture Park in East Otto, N.Y. 
The drive to the 450-acre sculpture park was mostly on two-lane roads, where hand-lettered signs and a horse-drawn buggy clued us in to the fact that we were in Amish country. In fact, the dozens of Amish businesses along the Cattaraugus County Amish trail is a trip unto itself.
We didn't have the time for such a diversion however, as we were meeting Nila Griffis Lampman, the executive director of the foundation that oversees the park, which includes miles of trails and more than 250 large-scale sculptures.
'You're not going to hear a lot of 'no's'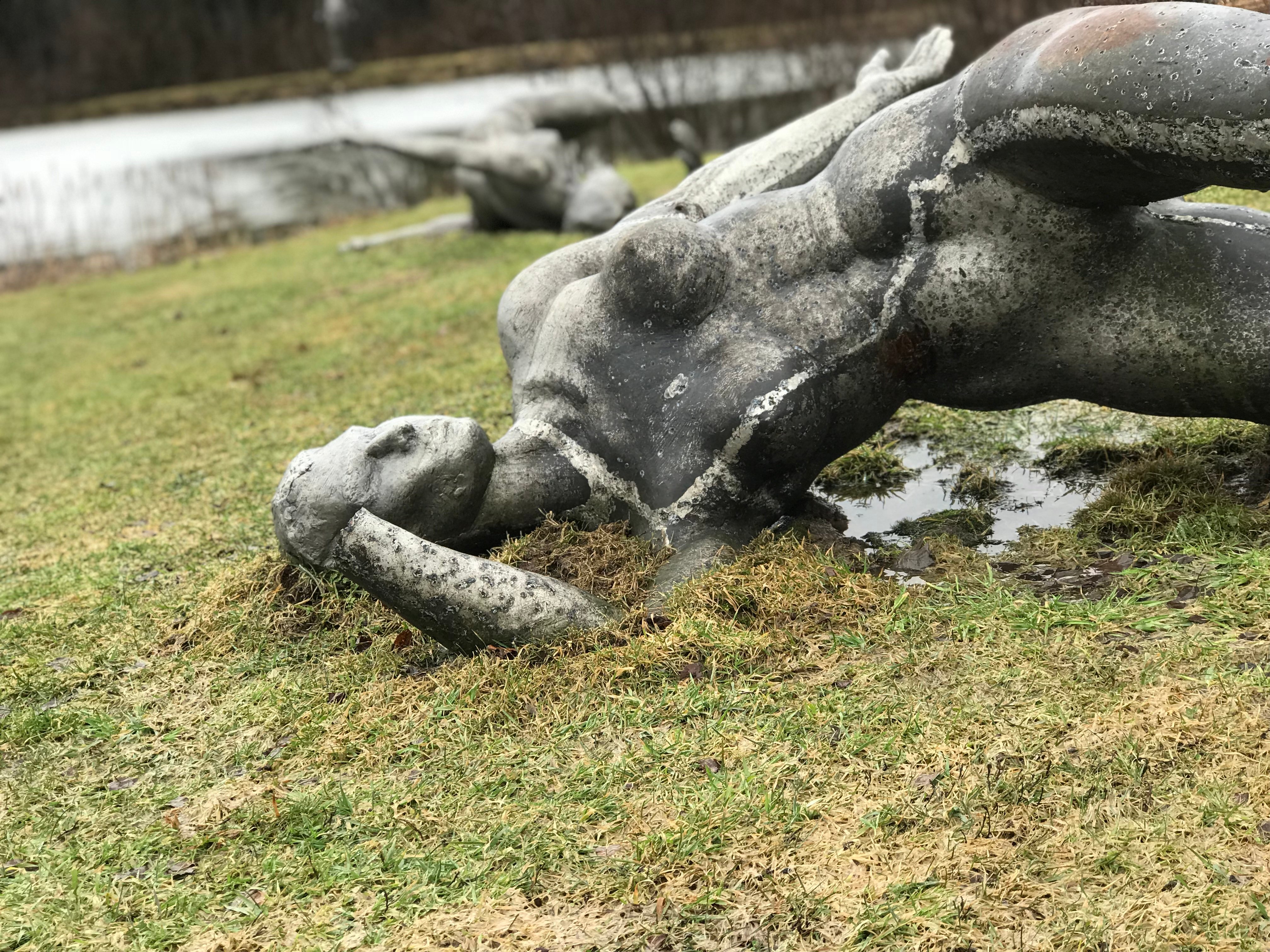 Most of the sculptures at Griffis Sculpture Park were created by Larry Griffis, Jr., Nila's grandfather. She told us that after fighting in WWII, starting a family and running a successful hosiery company, her grandfather decided to move to Rome to learn bronze casting. It was there, while watching his kids play outdoors in sculptural ruins, that he decided he wanted to create an outdoor sculpture garden where families could interact with art in an ever-changing natural setting. 
He found his site in Cattaraugus County, and began to make his vision into a reality.
"The nice thing about visiting here is you're not going to hear a lot of 'no's,'" said Nila, encouraging our kids to climb on, under and in any of the sculptures they could.
Some of Larry Griffis' creations are absolutely breathtaking. My favorites were on the Rohr Hill Road site. One in particular, a bronze woman standing 20-plus feet tall, caught my attention. She stood looking out over the hills of the Cattaraugus Mountains, brown in late February. But it was easy to imagine how beautiful her view is as the seasons change — just as Larry Griffis Jr. had envisioned.
The sculpture park is officially open May 1 to Oct. 31, but remains accessible year-round without amenities. Keep in mind admission is $5 for adults no matter when you visit. (You pay on an honor system, so bring cash!)
A holiday to remember at Holiday Valley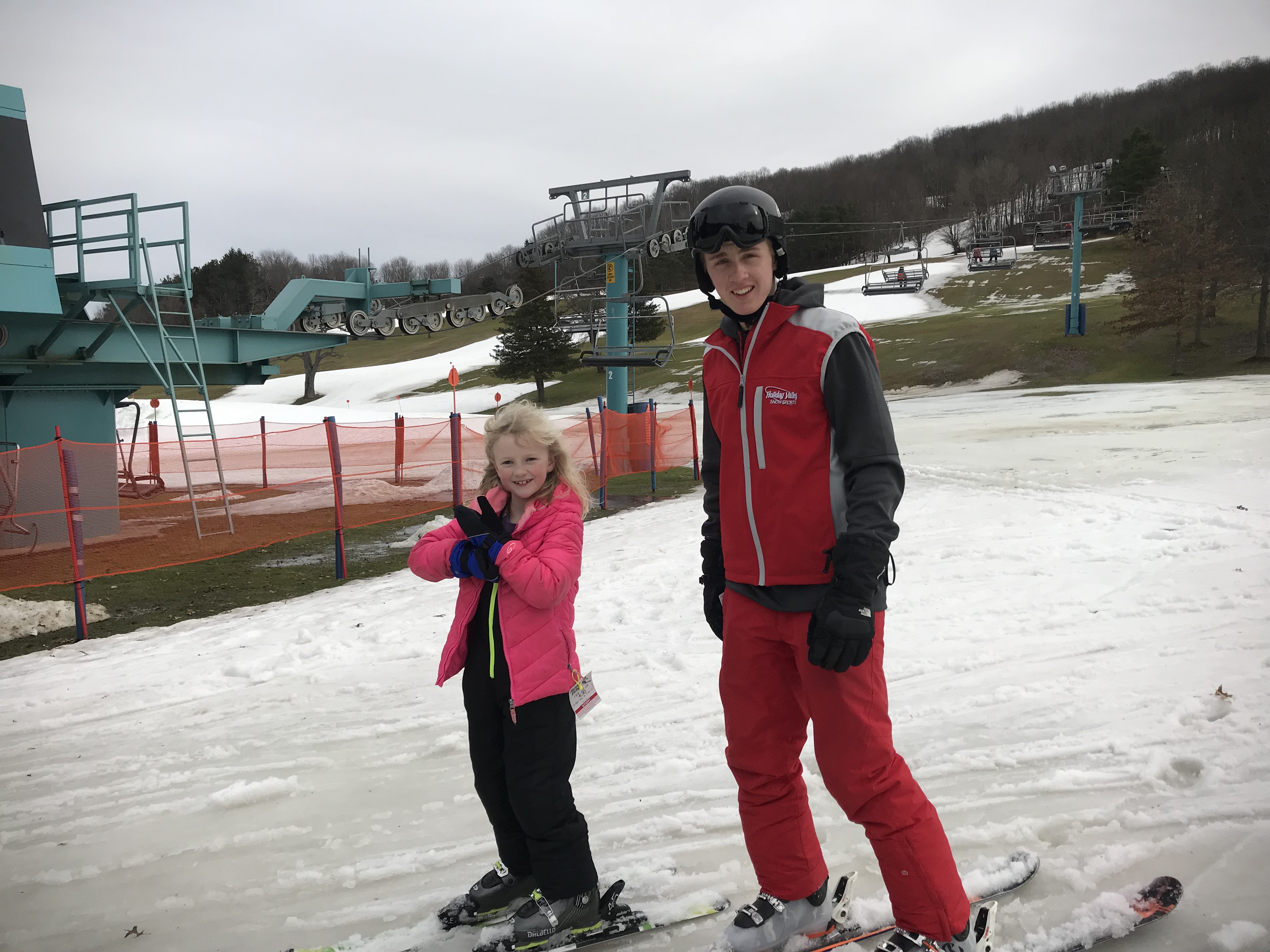 We departed the sculpture park to journey the final eight miles to Holiday Valley, a sprawling resort celebrating its 60th birthday in 2018.
Zoe was excited about skiing again, so we signed her up for a private lesson with a teenage instructor named Noah. She was instantly head over heels, much to my amusement. She left without a look back, excitedly chatting to him as they skied off hand in hand.
I knew she was in a perfect spot for a private lesson: After all, Holiday Valley was rated by Ski magazine as the third best ski resort in the eastern U.S. in its 2015-16 rankings. 
I left my happy daughter and her kind instructor on the slopes and headed into Ellicottville to spend an hour by myself exploring the charming downtown. 
The best place to start: With a pint at Ellicottville Brewing Co., of course. But that certainly isn't the only place to eat and drink in town. In fact, some of the other restaurants I saw on my tour of downtown — like Villagio and Dina's — made me sorry we didn't have longer here. I peeked into half a dozen stores, each quirky and full of personality. One of my favorites was Ameri-Can, a store featuring an eclectic collection of works from artists who all hail from either America or Canada.
I returned to the resort just in time to watch my daughter take her inaugural trip up a ski lift with Noah. She came back down triumphant wanting to go again, again and again.
Noah obliged.
Mountain Coaster thrills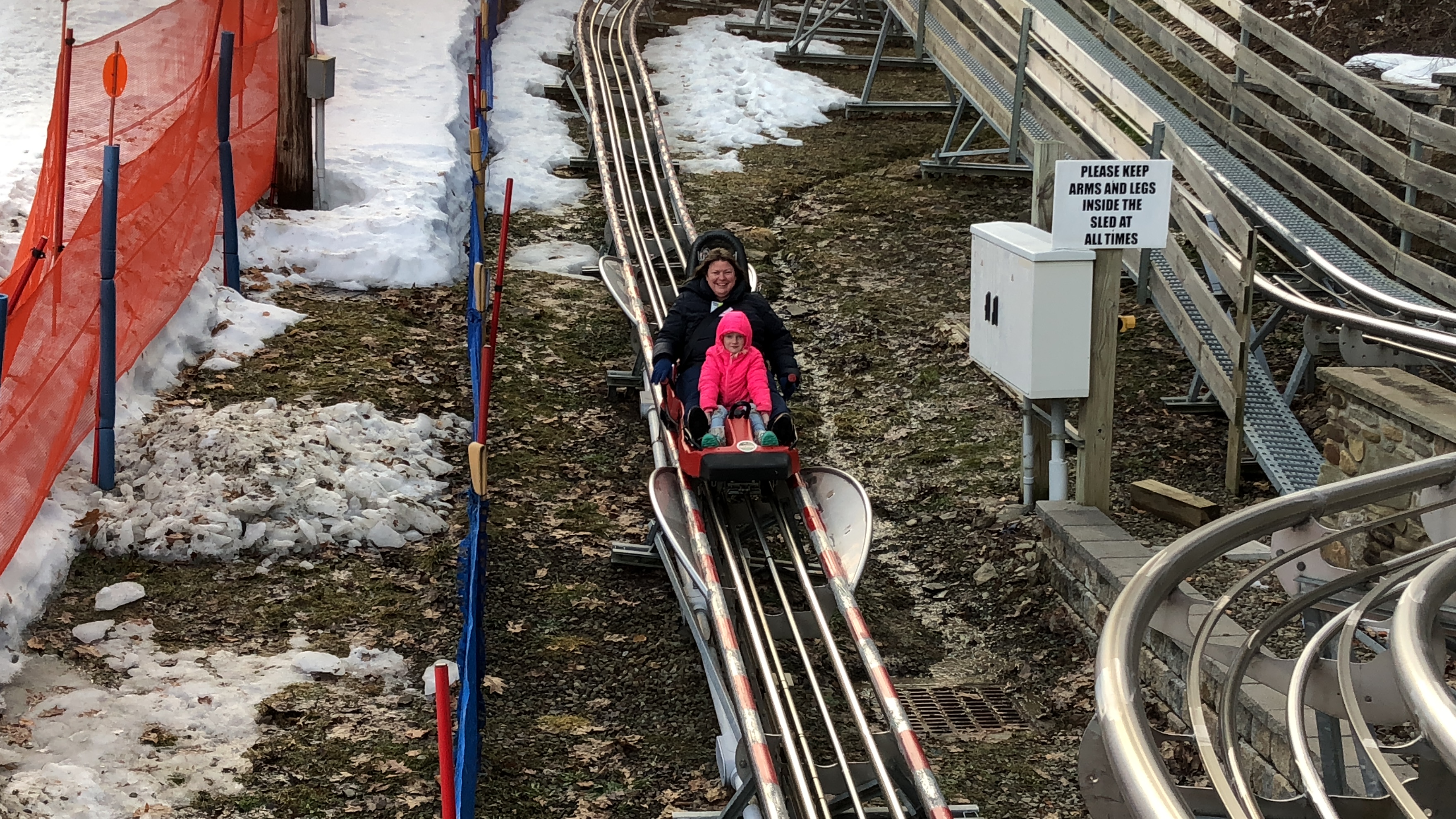 Once I talked Zoe off the slopes, we had a quick lunch then decided to try out Holiday Valley's Sky Flyer Mountain Coaster, a 4,800-foot mountain coaster with a vertical rise of 283 feet and a scream-inducing zig-zagging downhill track. Riders control the speed of the coaster with handbrakes, but Zoe urged me faster anytime I even lightly applied the brakes.
The ride takes about six minutes. 
We hurtled down the hill five times.
Needless to say, we were chilled by our last ride — my daughter's cheeks were pink but she was grinning ear to ear. 
And she wasn't prepared to stop: Once she saw the indoor/outdoor heated pool at the Inn at Holiday Valley she was ready to dive in. She and the other kids in our group played in the pool both indoors and out while the moms took turns in the hot tub. 
After coaxing them from the water, we dried off and dressed for dinner at John Harvard's Brew House, located in the Tamarack Club on Holiday Valley's grounds. The restaurant was a carb-loading skier's dream, with a to-die-for buffalo macaroni and cheese — made with smoked gouda, chicken, tomatoes, scallions and herb bread crumbs and, of course, buffalo sauce. I split the entree with another mom, and we still only managed to eat half.
By the time we made it back to our room — a skier's fantasy come true with its sliding glass door that opened up right at the foot of a lift — Zoe was tuckered out. She curled up against me and was asleep in minutes, dreaming, I'm sure, of skiing side-by-side with Noah.
More pictures of our time at Griffis Sculpture Park, Ellicottville, and Holiday Valley: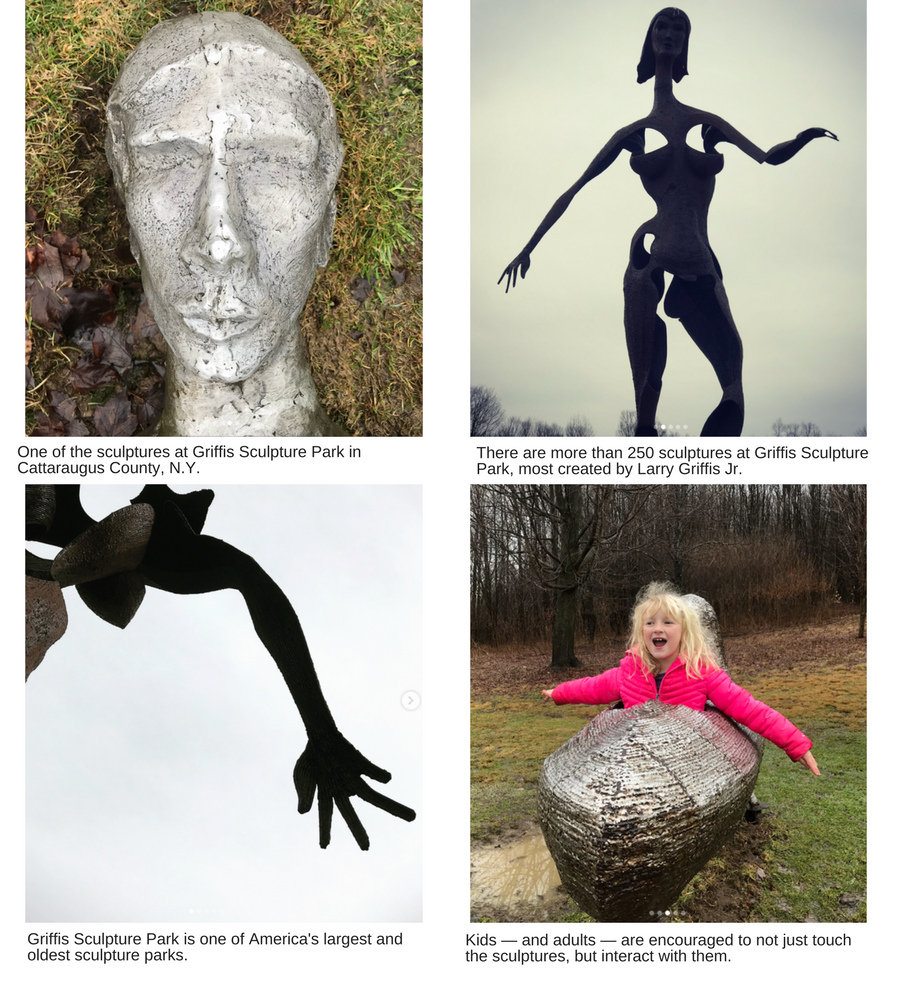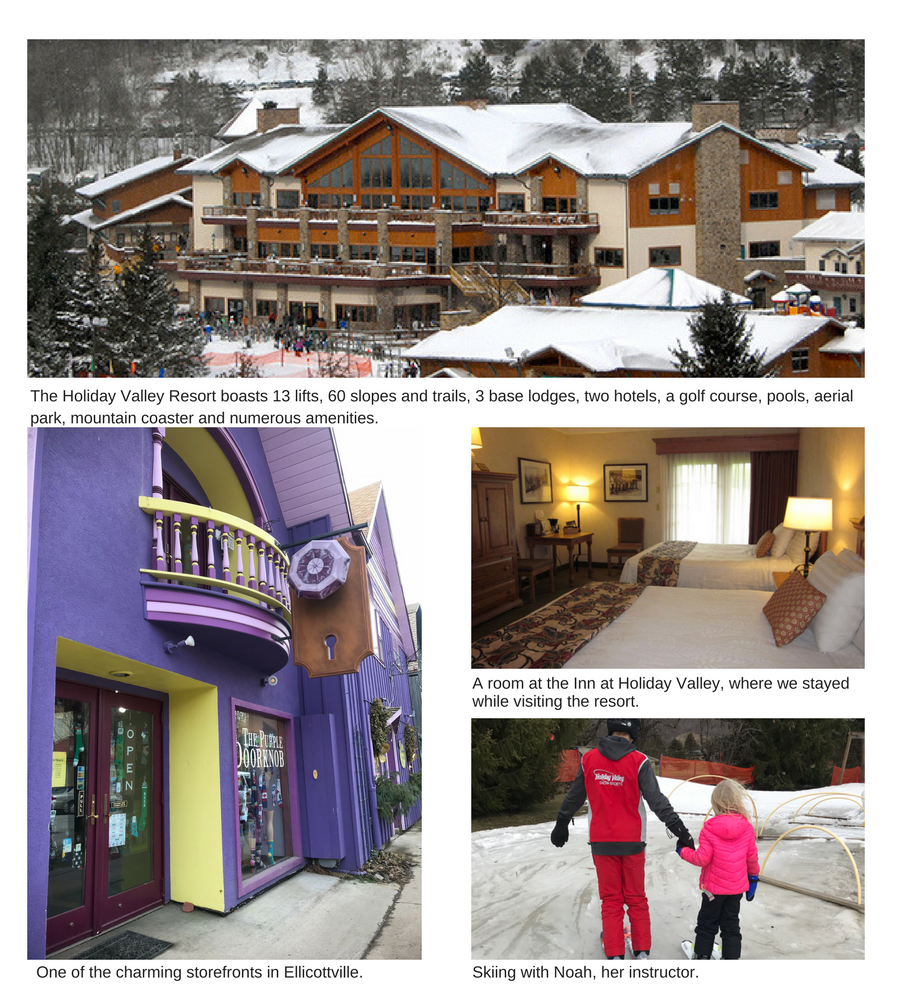 Please note: While our time in New York was hosted, opinions are purely my own.
🌸🌸🌸🌸

Make sure to subscribe to our free weekly newsletter and like our Facebook page to stay up to date with all the latest family fun in Erie!