Have you visited the Erie Free Store yet? If not, a great time to visit is from 4 to 7 p.m. Monday when the Free Store will celebrate its two year anniversary.
There will be special giveaways during the event from Milestones Children's Consignment, UPMC, Macaroni Kid Erie and other Erie Free Store partners!
You can also shop at the store during the event -- where everything is free! (Really! No strings attached!)
Monday will also be a great time to make donations. The Free Store is in special need of warm kids' clothes and toys.
"We can never have enough kids' stuff," said Breanna Adams, who opened the Free Store two years ago. It's located in the basement of the Elmwood Avenue Presbyterian Church, 2816 Elmwood Ave. The Free Store is open from 4 to 7 p.m. every Monday.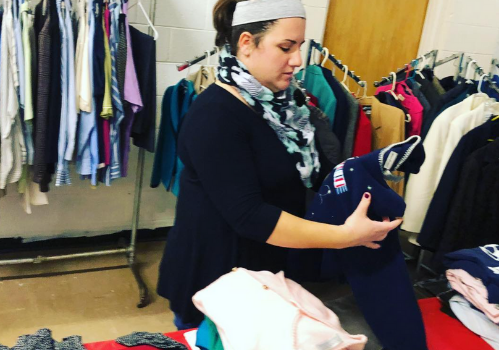 Erie Free Store Founder Breanna Adams
During the past two years Breanna says she has learned what a generous community Erie is -- and also how deep the need in the community goes.
"We don't ask questions, but we hear people's stories," she said.
The Free Store welcomes everyone -- from people who are just trying to save money to new immigrants to families who are in dire need.
"We put no limit on what people can take, and no one leaves empty-handed that is in need," Breanna said.
If you're interested in donating to the Free Store here's what to keep in mind:
You can make donations at the church office on Mondays from 9 a.m. to 1 p.m. and then at the Free Store itself on Mondays from 4 to 7 p.m.
Keep donations seasonal. Storage is at a premium, so Breanna asks that you donate clothes or items that are in season.
There are no income requirements. Everyone is welcome to stop in and browse! People drop off donations ranging from brand new kids' clothes to gently used strollers and baby swings. You are welcome to take what you can use!
No furniture or large items, please. The Free Store doesn't have room for those types of big pieces.
The Erie Free Store is also always in need of volunteers! Volunteers of all ages are welcome!
🌸🌸🌸🌸🌸