Your Elf on the Shelf has a very important job. He/she watches your children for good behavior and reports back to Santa Claus each night.
Of course, this means it's your job to remember every night to -- ahem -- help the elf on its way. And that's if you even remember, right?
We've got you covered! Whether you prefer to leave your elf in one place all season or need some inspiration to keep him/her on the go, there's a printable here for you.
With a behavior meter that gives your elf a reason to stay put, a scavenger hunt to get your kids on the move, a calendar of daily inspiration, and a goodbye letter from your favorite Christmas elf, it's now up to you to decide... is your elf staying on the shelf or roaming around your home?
Behavior Meter
Time to give yourself an Elf break this season!
Macaroni Kid wants to make elf surveillance super easy for you this year by providing a printable behavior meter to add to your seasonal shenanigans.
To make things even more special for parents, we've added a little note to accompany the meter, and... bonus! This note gives your elf reason to stay right where it is!
All you have to do:
Download the FREE printable.
Cut out the pieces you need.
Connect the arrow to the meter with a brad so that it spins.
Have some fun!
If you really feel like taking a hands-off approach, simply point the meter at "nice list" and leave it be all season. After all, aren't they all really perfect little angels?
Grinch warning: Please use the behavior meter with parental care, as some children might be upset if their meter points toward the "naughty list." Don't say I didn't warn you!
Get your FREE printable behavior meter here: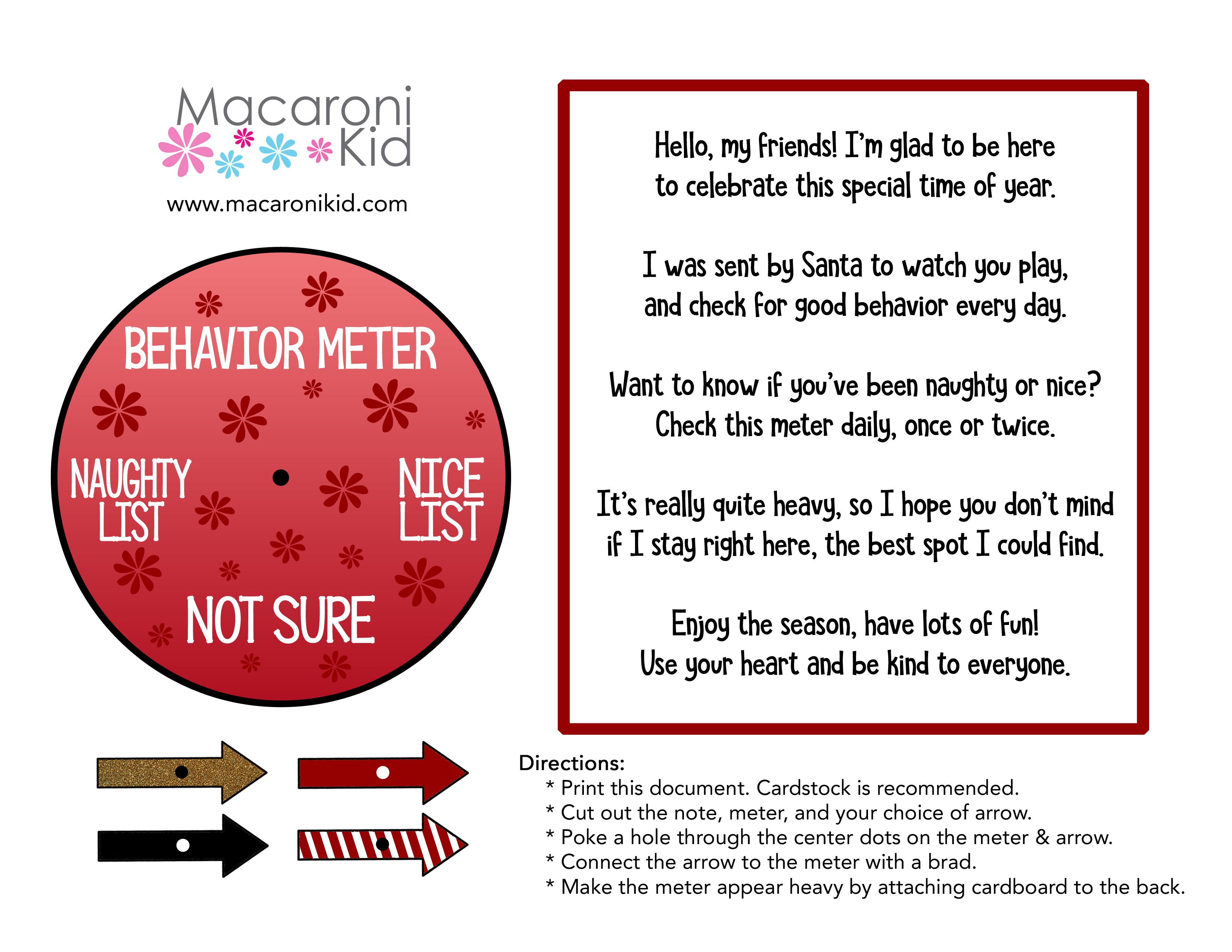 Sarah Hauge is the publisher of Macaroni Kid Englewood-Greenwood Village-Centennial, Colo.
Scavenger Hunt and Goodbye Letter
Even if your elf is staying in one place this year, the kids can still be on the go.
When your elf comes back for the season, he/she can set up this fun scavenger hunt for the kids... all YOU have to do is cut them out and hide them with the prize.
The hardest part is deciding what's waiting at the end! The elf could either be holding the first clue or be what's hiding behind the tree. Or maybe the prize at the end is a Christmas book, a treat, or an advent calendar?
Whatever it is, it's going to be a fun way to start the holiday season!
And of course, we couldn't forget about the elf's big goodbye after such a fun entrance, so we've included a letter to address to your family and sign from your elf. Plus, there are some bonus accessories on the page that you can cut out and use in your elf scenes!
Get your FREE printable scavenger hunt and goodbye letter here:
Elf on the Shelf Planning Calendar
Of course we couldn't forget about those of you with busy elves!
This printable calendar has ideas for each day of December, plus some space to make notes for when inspiration strikes and you don't want to forget your awesome idea... we all know how busy our minds are this time of year!
Hopefully that cup of cocoa will remind YOU to take some time for yourself too!
Get your FREE printable elf planning calendar here: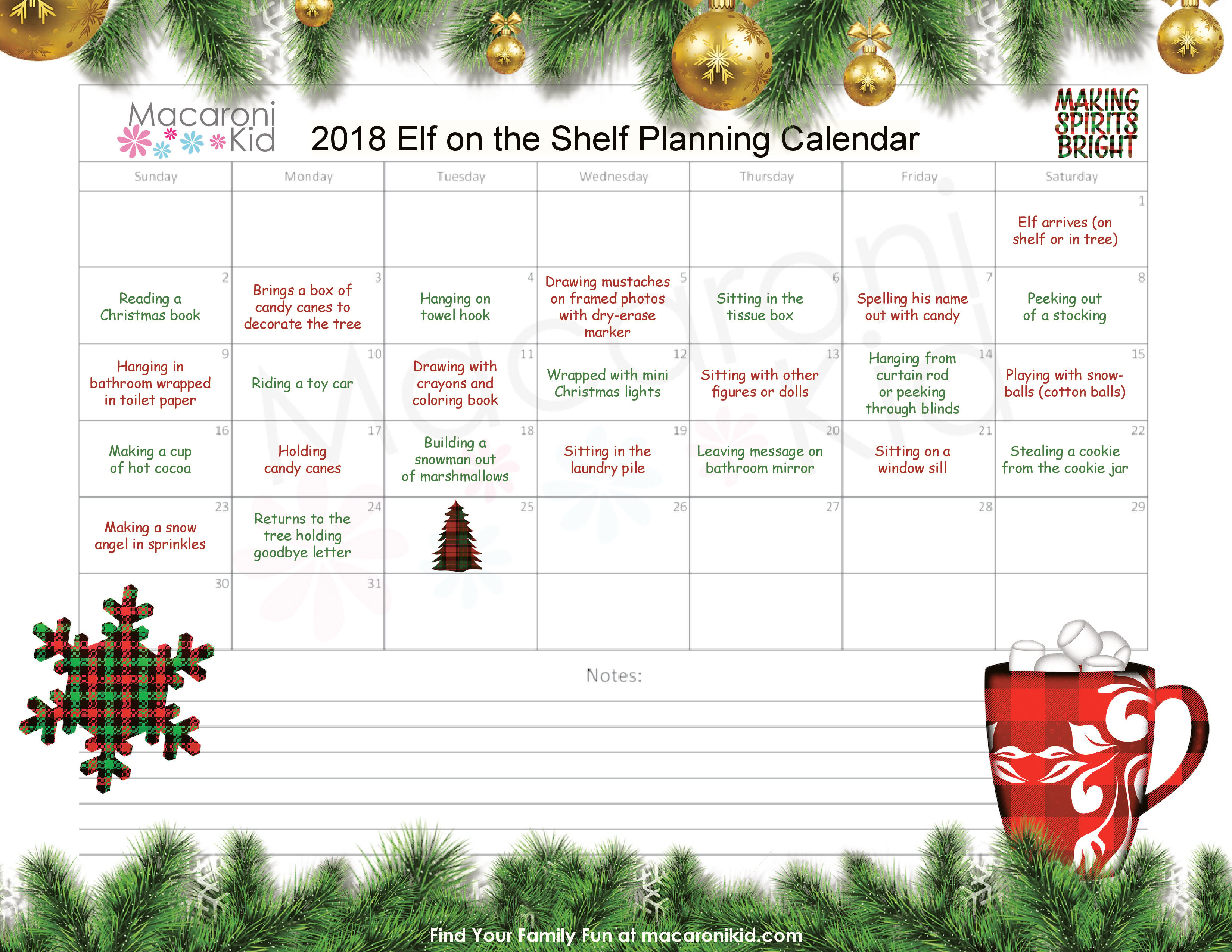 Mary Shoemaker is the publisher of Macaroni Kid Allentown, PA and Laura Miller is the publisher of Macaroni Kid Appleton-Waupaca-Oshkosh, WI.