My family was invited to try out the all-new Lunar Lights Tubing at Peek'n Peak in Clymer, N.Y. We had snow much fun!
We went on a night when the temperature had topped out at about 25 degrees and I was sure my kids, ages 7 and 9, wouldn't last 30 minutes in the chill.
But I finally talked them off the tubing hill about two hours later.... and I had to bribe them with hot chocolate to get them to agree to leave. They never complained about the cold once!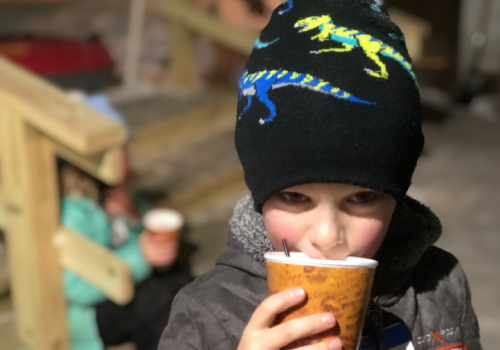 And up we go!
But I'm getting ahead of myself: To get to the top of the hill you ride the "magic carpet." It's kind of like the conveyor belt at the airport, but rubberized. My son fell the first time up it (and I almost did too!), but once you get the hang of how to balance you're totally fine! And there's no need to struggle with hooking to a moving cable or hauling your tube to the top of the hill -- which is really nice, especially with kids.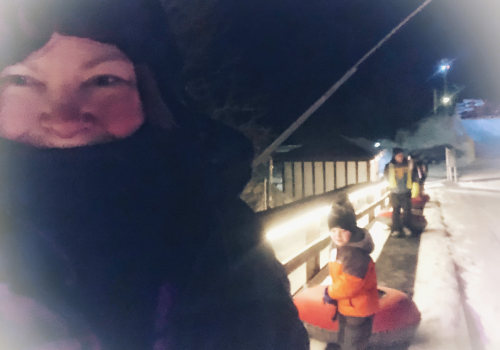 A pulsating light show in the sky ... and on the ground
There is plenty of staff on hand to help at the top and bottom of the hill. They helped us on nearly every ride down -- giving us a push and even spinning us in circles a few times. It was cool to look up and see the moon and stars twirling above us.
It was just as much a thrill on the first ride as our 20th. A big part of that had to do with the light show. Thousands of LED lights change, fade and pulse on the hill in coordination with high energy music. On some nights there's even a live DJ.
My daughter ran into a friend from school and so, for the rest of the night, we pretty much just saw her as a giggling blur as she sped by us while she and her classmate raced each other down the hill over and over.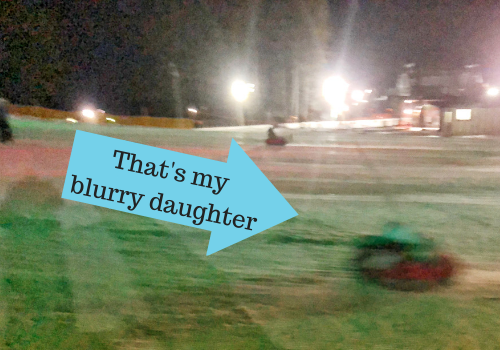 My son, though, stayed with me and my husband. I loved riding down with my little boy -- on every ride he just threw his head back and grinned ear to ear as the lights washed over him and we sped down the mountain.
Lunar Lights Tubing was definitely a memorable thrill for all of us!
Here's a video of our experience:
Want to go? Here are some tips:
The Lunar Lights Snow Tubing begins at dusk each night that snow tubing is open (Monday and Thursday through Sunday.)
Since this is a new attraction, it can get busy! The busiest nights are Friday and Saturday. We went on a Sunday night and never had to wait.
There are refreshments and restrooms in the nearby Retreat building, or some simple treats available -- like soup, sandwiches and hot chocolate -- for purchase at a snack shack right at the bottom of the hill.
Want to watch? There's a small set of risers set up for a viewing area. They're metal, so bring a pad so your bum doesn't freeze!
Kids must be at least three years old to tube.
A two-hour tubing pass is $20. There's no additional charge for the Lunar Lights Tubing.
While my family's time at Peek'n Peak was hosted, opinions are purely my own.
🌸🌸🌸