Earth Day was April 22, but Erie is still celebrating. Here are upcoming Erie events you can participate in with your kids that involve learning about the importance of caring for our planet. (Need more incentive? Do we need to say more than free ice cream at Fat Lenny's?!?)
Events:
Thursday, April 25
Think Green: Sustainable Living Every Day at Frontier Park (Registration required): Join us for a lively, eye-opening panel discussion with local sustainability experts Katie Chriest, Brittany Prischak, Hannah Rhodes, Jessica Stutzman and John Vanco. Adults only. Pre-registration required.
Friday, April 26
Plant a Tree on Arbor Day! at Frontier Park: Penelec has donated 250 seedlings for community members to take home and plant. Stop by the LEAF Education Center to pick up a FREE seedling to plant at home! First come, first served.
Saturday, April 27
Earth Day Festival at Gannon University: Celebrate Earth Day with The Climate Reality Project Erie, PA Chapter! Gannon University's Hammermill Center. More than 50 green groups and vendors, student art show, food truck, raffle, and music by the Young People's Chorus and Cult Classics! There will also be a march around Perry Square to honor the 49th Earth Day. FREE. Families welcome!
Build Your Own Rain Barrel at Asbury Woods (Registration required): A rain barrel is an easy way to be "green" and conserve water at home whether you are an avid gardener or just like to water your lawn. Come to this class and construct a rain barrel from a 55-gallon food grade container. All supplies are included in the cost. $65 nonmembers. Ages 10 and up.
FREE: Spring into Science with WQLN at Tom Ridge Center and Presque Isle: Among the activities planned for this event: Kids can learn to fish, build a rain barrel ($30) and make a pollinator house. FREE. Families welcome.
FREE: Global Youth Services Day at East Middle School: Always an enjoyable day to help with the youth & community. Global Youth Service Day mobilizes youth to become the changemakers.PLEASE come join us! FREE. Kids and families welcome.
Sunday, April 28
FREE: Hill District Cleanup: Come down to Hippie and the Hound on April 28th, between 12-3pm and we will go out and clean up the area! Bags, brooms, and gloves will be provided. FREE. Families welcome.
Ongoing:
Adopt a Beach
Are you a local resident who enjoys visiting Presque Isle State Park? Why not adopt a beach? Join the Adopt A Beach team to help keep our beaches clean. The first clean-up of the year takes place May 18, and then will continue on the second Saturday of the month through October. If interested, please contact John Laskos at jlaskos@pa.gov.
Trash 4 Treats!
Need more incentive to do what's right for our environment? How about free ice cream!
Fat Lenny's, now at 443 W. Eighth St., is rewarding "Trash 4 Treats" by offering groups of kids who pick up trash and post their efforts on social media a free scoop of ice cream or shave ice. This incentive is ongoing!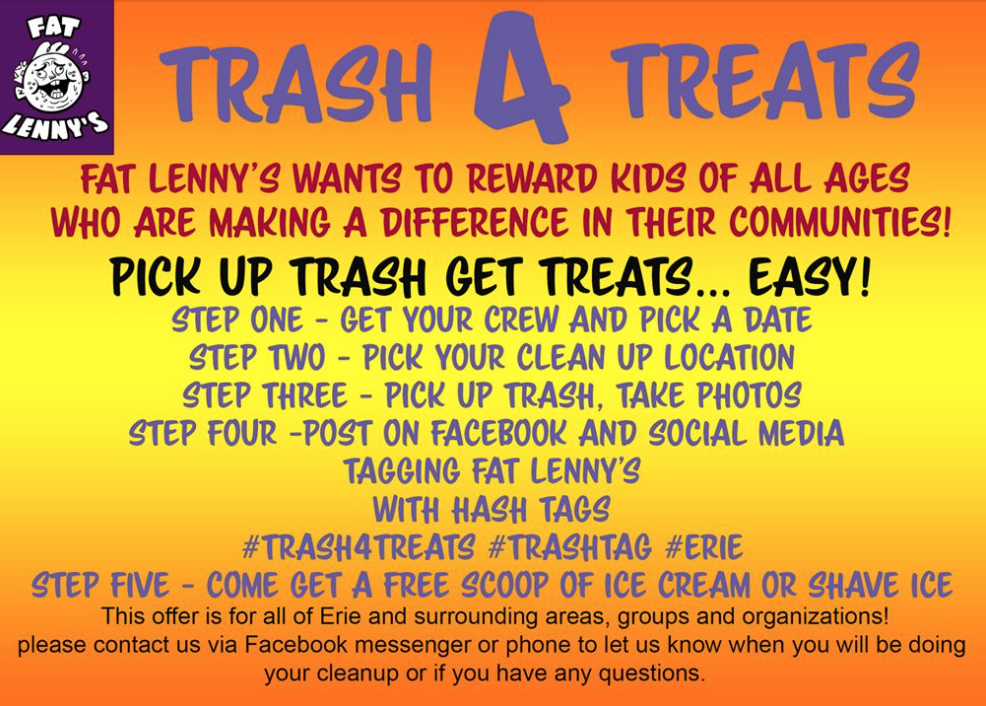 DIY
Looking for an Earth Day-friendly craft to make with your kids? Check out our video on how to make a recycled bird feeder:
Know of any events we're missing? Let me know by emailing me details at karam@macaronikid.com!
🌸🌸🌸
Other stories you might like:




Erie's Easter Events!

Erie's Favorite Summer Camps!

A list of Erie gardening classes