I've lived in Pennsylvania since 2002 but had never seen the state capitol -- or even been to that part of the state. So I jumped at the chance for a weekend away in Harrisburg and Hershey with more than a dozen other Macaroni Kid publishers and their cute kiddos.
It's certainly not an easy or short journey from Erie, but the gorgeous capitol and the other super fun attractions in the Harrisburg and Hershey region made it worth the five-hour drive. Here are 8 highlights from our weekend in Hershey and Harrisburg, listed in no particular order: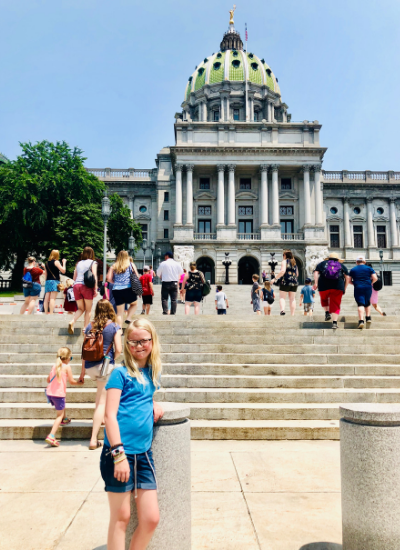 1. Touring the Pennsylvania Capitol
When President Theodore Roosevelt attended the dedication of the building on October 4, 1906, he said, "This is the handsomest building I ever saw." My daughter stood where he did all those years ago and repeated the same words as she looked around the awe-inspiring rotunda.
Pictures don't really do this gorgeous building justice. Our tour guide led us from one amazing room to the next, including the Supreme Court, and the House and Senate chambers. (Find out more about the free tours of the capitol.) But the true centerpiece of the building is the spectacular 272-foot, 52 million-pound dome inspired by Michelangelo's design for St. Peter's Basilica in Rome. If you haven't been, it's worth the trip to see this special building. After all, as Pennsylvanians, it belongs to us!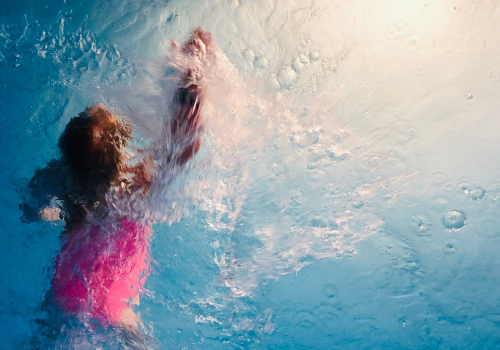 2. Taking a dip in the hotel pool
When you're nine, there's really nothing better than a hotel with a pool. The pool at the Best Western Premier in Harrisburg certainly didn't disappoint. In fact, it was one of the largest hotel pools I've seen -- one evening as I sat with friends enjoying a glass of wine poolside, I counted more than 20 kids swimming, playing and laughing the night away -- and the pool didn't even seem that crowded!
The hotel had everything I wanted too -- large, clean rooms with a mattress that put me instantly to sleep. Plus, complimentary wi-fi is always a nice touch. The hotel's restaurant, called O'Reilly's Tap Room & Kitchen, offered us a full breakfast buffet every morning with hot pancakes, scrambled eggs, bacon, sausage, bagels, cereal and much more. The perfect start to a day of fun! With all the amenities it's no wonder the Best Western Premier was ranked No. 3 of 52 Hotels in Harrisburg by TripAdvisor 2018.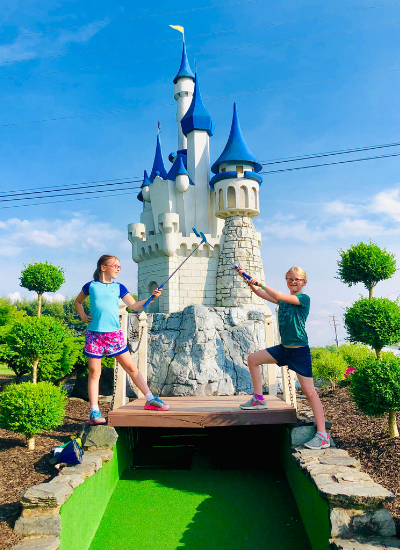 3. Racing go-karts and playing putt-putt at Adventure Sports
We arrived in Hershey late Friday afternoon and met our Macaroni Kid friends at Adventure Sports in Hershey. It was a great way to unwind after a long drive! Zoe and I teamed up to race go-karts (I don't want to brag, but we totally won), and I got soaked on the bumper boats when I made the mistake of being the only adult among the kids.
We also played miniature golf on their beautiful course complete with cascading waterfalls, sparkling ponds, beautiful flowers and shade trees. We wanted to play laser tag and check out their new escape room too but we ran out of time! It would be easy to spend a full day here with friends.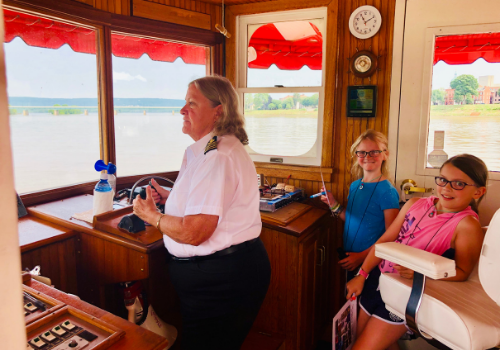 4. Learning on the Pride of the Susquehanna Riverboat
We signed up for the Saturday morning River School Voyage on the Pride of the Susquehanna riverboat. This unique 75-minute floating classroom experience teaches kids (and their parents!) about the history and natural wonders of the Susquehanna River and Harrisburg. The engaging instructors showed how the river was formed and how we can take care of it before setting the kids loose on a scavenger hunt.
While the kids were in class, I enjoyed the view -- including the governor's mansion! -- and watching the paddlewheels of the riverboat turn. I was surprised to learn the Pride of the Susquehanna is one of only six remaining "authentic" paddle wheel riverboat in the United States. This means that it only uses the paddle wheels for both propulsion and steering. It was really interesting to watch the captain steer. She was happy to have the kids hang out with her as she worked!
Along with its regular River School cruises, the Pride hosts family-friendly pirate-themed and princess-themed cruises -- you can check its schedule to see what's happening when you're in town!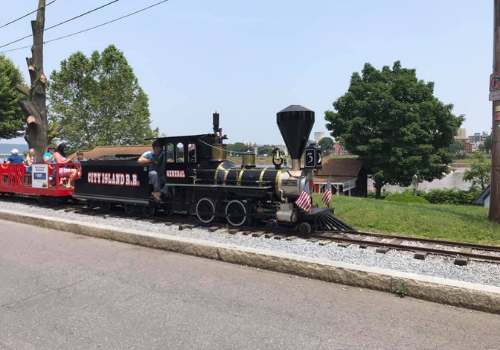 5. Riding the railroad on City Island
The Pride of the Susquehanna is located in City Park, which it turns out is a pretty special place to Harrisburg. The Harrisburg Senators stadium is located in City Park, and there's also plenty of other fun for families, including a playground, a miniature golf course, a train and carousel.
We rode the train, which gave us a nice overview of everything the park has to offer. There was even a great spot for lunch in a colorful cute building that looked like it would be at home on the shores of Key West. The restaurant, Cafe Huey, made us sandwiches to go, which allowed us to eat lunch at a picnic table on the shore overlooking downtown Harrisburg.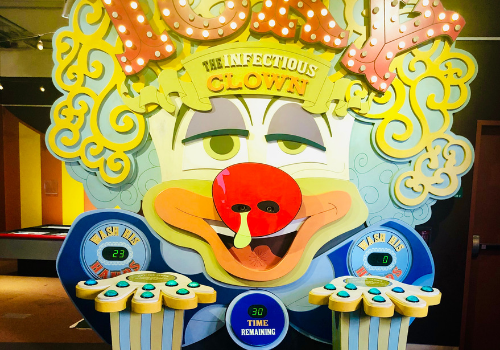 6. Whitaker Center
The Whitaker Center is Harrisburg's answer to a children's museum, with plenty of hands-on STEM fun. Kids can experience what hurricane force winds feel like, learn about different ways to fold a paper airplane, and how germs are spread. This is one of those centers that disguises education experiences as fun, and based on my daughter's giggles and interest level the efforts worked!
The Whitaker Center also has a beautiful performance theater as well as an IMAX-sized movie screen, making it a great place to spend an afternoon. Bonus: A great gift shop with plenty of STEM-related toys -- I picked out a few things here to take home to my son as a memento from the trip.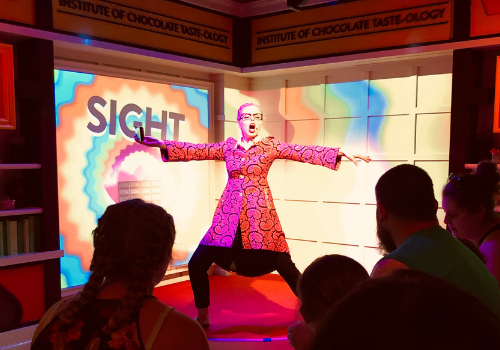 7. Hershey's Chocolate World
Having never been to Hershey before, I didn't realize how HERSHEY the city is. My daughter and I were tickled when GPS gave us directions like turn left on Cocoa and right on Chocolate. So we certainly weren't prepared for the amazingness that is Hershey's Chocolate World, the chocolate company's visitor center located just outside of Hershey Park. I was expecting a little history of the Hershey company, and the chance to buy a candy bar or two.... um, no.
Hershey's Chocolate World is a serious attraction in its own right. We started with Hershey's Unwrapped Theatrical Show, just added the lineup here in late May. The 30-minute theatrical show takes visitors through "Hershey Academy." It turned out to be a full-fledged production, complete with a chocolate tasting kit and keepsake for us. A delicious introduction to the world of Hershey.
There was also so much more -- a 4D movie, a chance to make your own candy bar, a free chocolate tour, and an unbelievable souvenir shop. We ate at the food court, where my daughter had cocoa-dusted chicken fingers and we splurged on a s'more to share after. This was certainly an experience unlike any other -- and a can't miss when you're in the region.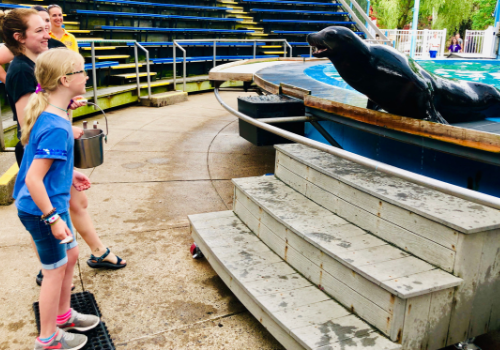 8. Hersheypark
We spent our last day in the Hershey/Harrisburg region at its No. 1 attraction -- Hersheypark! We got there before the doors opened with plans to head straight for Reese's Cupfusion, an interactive gaming ride featuring targets at every turn. Our plan paid off, with a much shorter wait time than the 75+ minutes the HersheyPark app had reported the night before. We relied on the app to help us find the shortest lines of the day throughout our visit. It helped us maximize our time and made it easy to find our way around the park.
Zoe wasn't sure about the big roller coasters, which surprised me since she loves Waldameer's Ravine Flyer III. But we stuck to "safer" rides, though I did manage to talk her onto the indoor, spinning, glowing Laff Track coaster, which turned out to be our favorite ride of the day.
We also wandered by the Oceans of Fun right as a show featuring seals and sea lions started, which turned into an extra memorable experience for Zoe when she was invited to feed a sea lion.
Making plans to return!
Now that we know what a special amusement park this is, I think we'll head back with the whole family in the 2020 season, when an all-new section of the park called Chocolatetown will open on 23 acres at a cost of $150 million, and will feature a "hypercoaster," a themed restaurant, and a boutique store, among other attractions. It's the largest expansion in the park's history.
Our trip to Hershey and Harrisburg was a trip that was educational, fun and full of new experiences -- the perfect travel trifecta! We managed to fit in a lot of experiences in just two days and left wanting to do more. It might be a long drive to Hershey and Harrisburg from Erie, but for us it was worth every minute!
See more highlights of our trip to the Hershey and Harrisburg area:
Our travel experience was hosted. Special thanks to Rick Dunlap, the public relations director for Visit Hershey & Harrisburg (and his daughter, Zoey!), for organizing such a memorable experience for our group of Macaroni Kid publishers!