I took a deep breath and dove under the sparkling blue water in the beautiful pool, giddy with the promise of a fantastic few days ahead of me.
I'd landed in Cancun less than two hours before, my first time traveling to Mexico. It promised to be a memorable girls' trip, with more than 40 of my sister Macaroni Kid publishers joining me for a few days away in paradise. We call this annual getaway our Silver Daisy Boondoggle.
| | | |
| --- | --- | --- |
| | | |
| | The view from my room. | |
We'd been invited to stay at Azul Beach Riviera Cancun, located on the Caribbean coast. The all-inclusive Karisma Gourmet Inclusive Experience is exceptionally family-friendly, with everything from kids' stations at the buffet to miniaturized beach chairs poolside. There's even Gerber baby food available at all the restaurants. There's also a small splash pad and toddler pool, along with "clubs" for kids and teens.
As chief Macaroni Mom Joyce Shulman told me, she loves all-inclusives because it gives her a few days off from saying no to her kids. Want a second virgin daiquiri? Go ahead! Want those chips out of the minibar? Feel free! Want to skip lunch and just have dessert? OK by me!
'This is heaven'
But on this trip, we were traveling kid-free, and while as moms, we appreciated the touches to make the stay unique for the smallest of guests, we certainly found the resort also to be an excellent spot for an adults-only getaway.
| | | |
| --- | --- | --- |
| | | |
| | Moms-only on this trip! | |
We spent a lot of time at the adults-only pool (complete with a butler and a swim-up bar); luxuriated in our gorgeous, spacious rooms (plenty large enough for rooming with your BFFs); and enjoyed unforgettable gourmet, artisanal meals that wowed the senses.
"This is heaven," one of my friends said as I came up out of the water and took a breath. "Pure heaven."
And it was. The next two days we were spoiled, pampered and made to feel incredibly special -- all trademarks of a stay at an Azul Beach Riviera Cancun. We found the staff at Azul to be unfailingly kind, friendly, and eager to please.
I found out later that this feeling of having every whim catered to didn't happen by accident. In fact, Azul Beach Riviera Cancun has among the best staff-to-guest ratio in the industry at 2 to 1.
Beach bums
I started the next morning with a room service breakfast (24-hour room service is included with the all-inclusive stay) and sat on the couch on my fourth-floor patio. The picture-perfect views of the pools and the Caribbean sea beyond almost didn't look real.
But they were, so, finished with breakfast, I headed to the beach -- just steps away -- where I joined a morning beach yoga class, feeling my muscles loosen as I stretched. The sounds of the birds and the sea provided all the music we needed.
| | | |
| --- | --- | --- |
| | | |
| | Namaste, indeed. | |
The next day I joined a few friends for a snorkeling adventure, not too far offshore from the resort's beach. A guide led us into a secret world of beautiful coral and neon-colored fish. We also saw stingrays, a lobster, and spiny urchins. It was my first time in the Caribbean, and I was glad to get the chance to see a bit of the magical world underneath.
| | | |
| --- | --- | --- |
| | | |
| | Up close! | |
From relaxation to revelry
After beach yoga, I was off to the Vassa Spa, for a "Be Happy" package, that included an exfoliating wrap made of mandarin, a soothing antioxidant facial and massage. I'd been asked to arrive an hour before my appointment and wasn't sure why. It turns out the immersive spa experience includes a guided hydrotherapy routine. Some of my friends had joined me for the experience, and we chatted and laughed and thoroughly enjoyed our time. I already felt like a loose noodle by the time I started my 90-minute appointment.
Relaxation is always good, but it's also fun to let loose. We did just that later that afternoon at the adults-only pool for a champagne party. I was a few minutes late, and the party was already in full swing when I arrived, with a DJ providing the backdrop for the freely-flowing champagne. What happens at the pool party stays at the pool party, but one image that will stay with me? A chain of 40 Macaroni Kid moms doing the Macarena, led by two bartenders in Lucha Libre masks. Without a doubt, the best pool party I've ever been to.
| | | |
| --- | --- | --- |
| | | |
| | Party time! | |
Dining to remember
We'd known our dinner at Le Chique would be special. After all, the restaurant -- located right on Azul's property -- has been ranked the No. 1 restaurant in Mexico three years in a row. It has also received the coveted AAA 5 Diamond Award on numerous occasions.

But even so, the 14-course tasting menu surpassed all expectations. Not only was it delicious, but the avant-garde techniques deployed by Chef Jonatán Gómez Luna were also inventive, fun, beautiful, and a joy for all five senses.
| | | |
| --- | --- | --- |
| | | |
| | One of the beautiful dishes at Le Chique. | |
Our other dining experiences at Azul were also above expectations -- meal after meal. The Karisma Gourmet Inclusive Experience includes five chef-curated restaurants at the resort -- Italian, Caribbean, Spanish, Mexican, and World cuisine. Traveling with kids and want a night out? There are after-hours babysitting services available.
| | | |
| --- | --- | --- |
| | Jordan Hampton Photography | |
The last night of our getaway, we gathered on the beach for a sunset happy hour. Many of us were barefoot, and all of us were smiling after two days at a resort that had exceeded our every wish. We were relaxed, happy, and ready to return to our "real" lives, glad to have made memories that promised to last long after the glow from the Cancun sun has faded.
See more highlights from our amazing trip!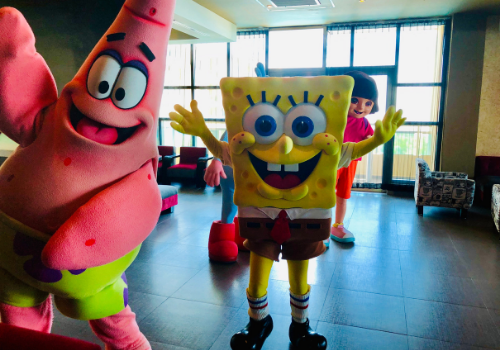 A sneak peek:
While in Cancun, we were given the opportunity to visit the under-construction Nickelodeon Hotels & Resorts Riviera Maya. The newest Karisma Hotels & Resorts location will open in 2020, and promises to be amazing, with unforgettable Nickelodeon experiences — including one of the largest water parks in Riviera Maya combined with the luxury of the Karisma Gourmet Inclusive Experience. The scope of the project is remarkable. Here are a few photos from our hard hat tour, including (above) the friends who welcomed us to the site, and (below) the construction crew at work, and a model room.
Thanks to Azul Beach Riviera Cancun for hosting Macaroni Kid publishers on our amazing 2019 Silver Daisy Boondoggle. We very much appreciate how thoughtful, kind and gracious our hosts were during our stay!