The Tall Ships Erie Festival starts today and is truly a can't-miss event! My family has attended two previous festivals and my kids always have a blast. Here are the event highlights you'll want to know:
Free events on Thursday, Aug. 22:
Parade of Sail: 4-6 p.m.: Any waterfront location -- including on Presque Isle and along the city's bayfront -- will offer good views of the Parade of Sail, during which all of the participating boats will enter through the Lake Erie Channel and sail around Presque Isle Bay before docking on festival grounds. One place NOT to go for this event: The festival grounds themselves, where the ships are docked. That area will be closed to the public Thursday.
Fireworks: 9 p.m.: Like the Parade of Sail, you can watch the fireworks from pretty much any bayfront location. They'll be shooting off from a barge on the bay, and organizers claim they will be one of the largest fireworks shows ever seen in Erie.

| | | |
| --- | --- | --- |
| | | |
| | Some of the tall ships at the 2016 Tall Ships Festival. | |
Paid attractions:
The festival runs from 10 a.m. to 6 p.m. Friday, Saturday and Sunday. Children under 2 are free. Tickets are available at the festival or in advance.
$10 per person single-day access includes:
All-day access to festival sites.
Dockside viewing of tall ships and the rubber ducks (see below for duck details.)
Live music and entertainment from 10 a.m. to 4 p.m.
Educational seminars
Children activities
Beer garden
Food vendors
Vendor marketplace
Other paid attractions:
Deck Tour add-ons are $5 per ship. We did this last time they had the festival, and the kids had a great time exploring one of the ships.
Have a boat-crazy kid? If one day isn't enough, you may also purchase a weekend pass for $39 that gets you into all three days of the festival along with deck tours on all available ships. There are (were) also day sails available on a few ships, but those seem to be mostly sold out. You can check here for any last-minute openings.
The World's Largest Rubber Duck!
The world's largest rubber duck -- and her baby! -- can be found inside the festival grounds during the festival. The mama duck towers more than six stories high, is 64 feet wide, 74 feet long and weighs 11 tons.
We happened to be at the bayfront last week when the one-story high baby was inflated: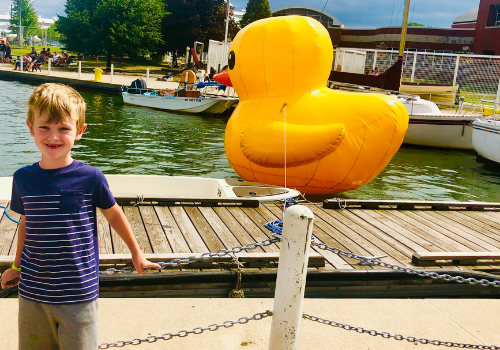 Parking:
Traffic patterns and parking near festival grounds will be extremely limited (re: difficult!) and portions of Holland Street, State Street and Sassafras Street extension north of the Bayfront Parkway will not be open to general public vehicle traffic. Instead of fighting traffic, festival attendees are highly encouraged to park in the city, then take a parking shuttle down to the festival. Parking passes are $10 each day for the festival at the downtown garages. You can buy passes in advance (and it might be a good idea as Friday is already sold out.) Shuttle services will run from 8:30 a.m. to 7 p.m. between the parking locations and the festival grounds.
🌸🌸🌸