Want to know more about preventing and/or treating prediabetes/diabetes in children and adults? Join Lisa Rose 9:30 to 11:30 a.m. Saturday, Jan. 18 for a class called "Prevent and Reverse Diabetes." This class offers a cooking demonstration of delicious, health-promoting dishes, along with a take-home packet of easy and affordable recipes. Cost is $15. Visit VeganCheers to save your space.
Type 2 diabetes used to be incredibly uncommon in young children and teens.
But based on the most recent estimates from the U.S. Centers for Disease Control and Prevention, prediabetes affects 18 percent of adolescents between the ages of 12 and 18, and up to 24 percent of young people ages 19 to 34. Unfortunately, these numbers have been rising steadily over the past decade.
What is prediabetes? It is a condition where the blood glucose levels are slightly elevated above normal, but not elevated high enough to be diagnosed as diabetes.
Most importantly, prediabetes is a warning condition that, if not addressed, can progress to type 2 diabetes.
Type 2 diabetes occurs when the pancreas is not properly regulating insulin in the body. A diagnosis of type 2 diabetes is significant because there is an association with more serious issues such as heart disease, stroke, and retinopathy resulting in blindness.
While many believe that sugar causes prediabetes/diabetes, research now suggests it is caused by a build-up of fat inside cells.
Yet, diabetes, once believed to be a life-long condition, is preventable and can be treated. There's no time like the present to address this condition and improve our children's health in the long-term.
Here are seven ways to help our children lower their body weight and reduce their chances of being prediabetic or developing type 2 diabetes:
1. Add more healthy foods to your children's diet
Vegetables, fruits, whole grains, and beans are low-calorie, high fiber foods that can be filling without all the fat.
2. Add family cooking time to the schedule
Batch cook healthy meals on the weekends to have grab-and-go meals ready during the busy week so there will be less excuses to stop for fast food.
3. Reduce/eliminate cooking oils
Rather than coating the pan with oil, try new cooking techniques such as water sautéing, steaming, or roasting without all that unnecessary oil.
4. Reduce and/or eliminate animal products from the diet
Start by practicing Meatless Monday or at least one meatless dinner one day a week. It's as easy as substituting beans on taco night or eliminating the meat from the spaghetti marinara sauce.
5. Eat out less
Restaurant-prepared foods are full of fat, salt, and sugar. Instead, create some family cooking time to prepare some healthy, tasty meals.
6. Reduce/eliminate processed foods
While they are time savers, they are also full of fat, salt, and sugar. Create your own healthy version of packaged foods.
7. Add exercise
Make exercise fun by incorporating it throughout the day for the whole family. Do 10 jumping jacks together every time you walk in the kitchen, or a complete series of push-ups during every commercial break while watching television.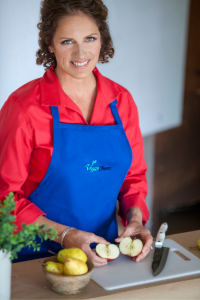 Lisa Rose, owner of VeganCheers in Erie, is passionate and enthusiastic about educating others about the benefits of plant-based eating and vegan living through one-on-one coaching, in-home cooking guidance, group presentations, employee wellness, and cooking demonstrations.