My 10-year-old daughter loves to write, draw, and play games. Earlier this school year she had a book report assignment with a twist... they were given a choice between several projects depicting the book "The Evolution of Calpurnia Tate." My daughter chose to make a board game about the book. It turned out to be so much fun!
Creating a board game is a great way to work on an (offline!) project. Making your own board game takes kids back to the basics of imaginative play, storytelling, and creativity. Plus — and this is a big bonus — it will keep a kid busy and engaged for a good long time.
Here are five steps to creating your own family board game:
1. Brainstorm the idea
Storytelling is key here, so don't rush this part. Have kids think of an adventure they'd like to take, or send their friends and family on. A harrowing journey through a fantasy land? A friendly romp in the forest? What about an educational game where players learn as they go? Maybe you can create an adventure modeled after your favorite book, movie, or favorite family vacation. The only limit is their imagination!
2. Choose the game play method
How will players advance through the game? Will they draw cards or roll die to move around? Move by numbers or colored squares? Will they collect items or currency as they go? Do they need to complete a challenge to advance beyond a certain point? Solve a math problem or a riddle? What about moving backwards or even returning to start? Your choices here will create the experience for the players. Even one or two differences here could mean you have two different games. Take at look at some of the games you have at home and think about which parts are your favorites.
3. Sketch out the game board
Start drawing your plan and placing key spaces on the board. Have kids consider things like special spaces. Will you include spaces that make you move backwards? Is it in a spot that makes sense? Do the jump ahead squares fall in a way that could make it unfair?
We played through my daughter's game a couple times to make sure it worked right. We quickly discovered that a lucky player could land on the very first jump ahead square and that landed them on the next jump ahead, to the next... allllllll the way to the end of the game. Oops! Good thing she plotted that out in pencil! Yes, you might have to revise the game board a few times, but this is all part of coming up with an idea and seeing it through to completion.
4. Decorate the game board
Once you have the game play figured out and it flows well, it's time to start decorating the board, cards, markers, dice or whatever other pieces your game has to match your theme and story. Don't skimp on detail! This is a great activity for those times when your child has lots of hours to fill with fun. Give them time to enjoy the artistic process. My daughter made her own die out of clay and used people-shaped wooden pegs as the game markers, with each representing a member of our family.
5. Play the game!
Gather your family for a fun game night. Bonus points for serving snacks that go with your game theme!
We hope your family has as much fun making your own board game as we did! And we hope you enjoy playing it over and over again together.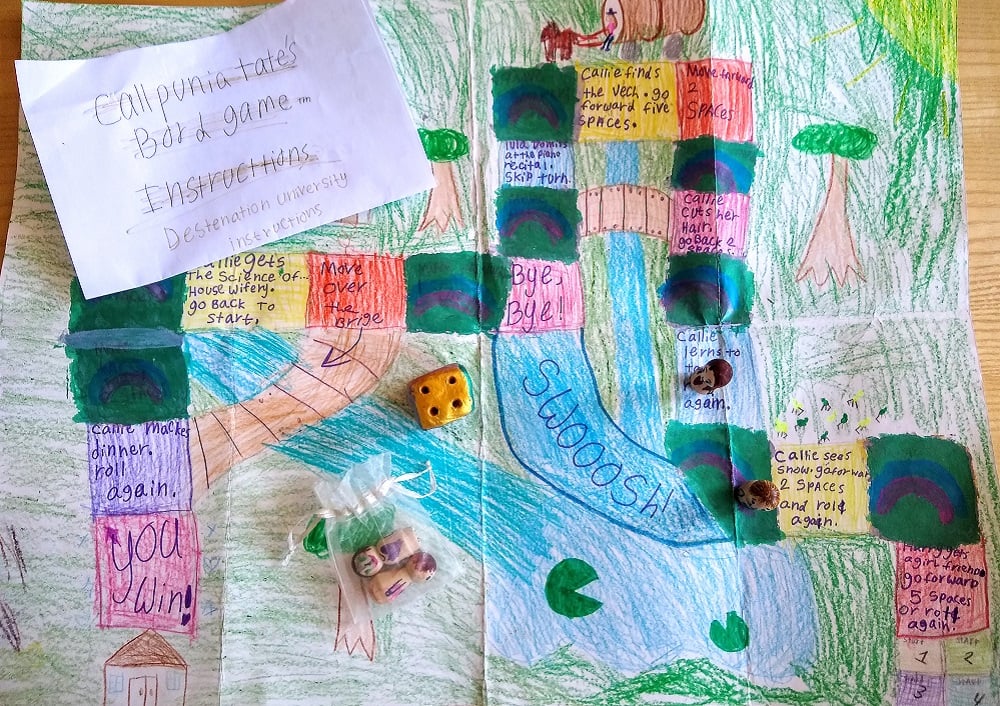 Laura Miller is the publisher of Macaroni Kid Appleton-Waupaca-Oshkosh, Wisc.