In 2020, the year of social distancing and quarantine, a lot of people have been finding new hobbies and ways to spend time. This past October, I decided to start sewing fleece items for small pets and opened my first Etsy Shop.
I'm 19 and I just started college at Penn State Behrend this fall. I was going to live on campus, but with the pandemic, decided to commute. One good thing about that is that I am home to take care of my two guinea pigs, Mochi and Lance.
I love to spoil them, and I saw online that some guinea pig owners had little sacks and tunnels made of fleece for their guinea pigs. I looked around, but the local pet stores didn't sell many items like that and I didn't want to spend a lot at the small stores I found online. A lot of the items looked easy to make, so I went on YouTube and found a video that taught me how to make "snuggle sacks" for my guinea pigs (they are like little sleeping bags). I made two, one for each of my pigs.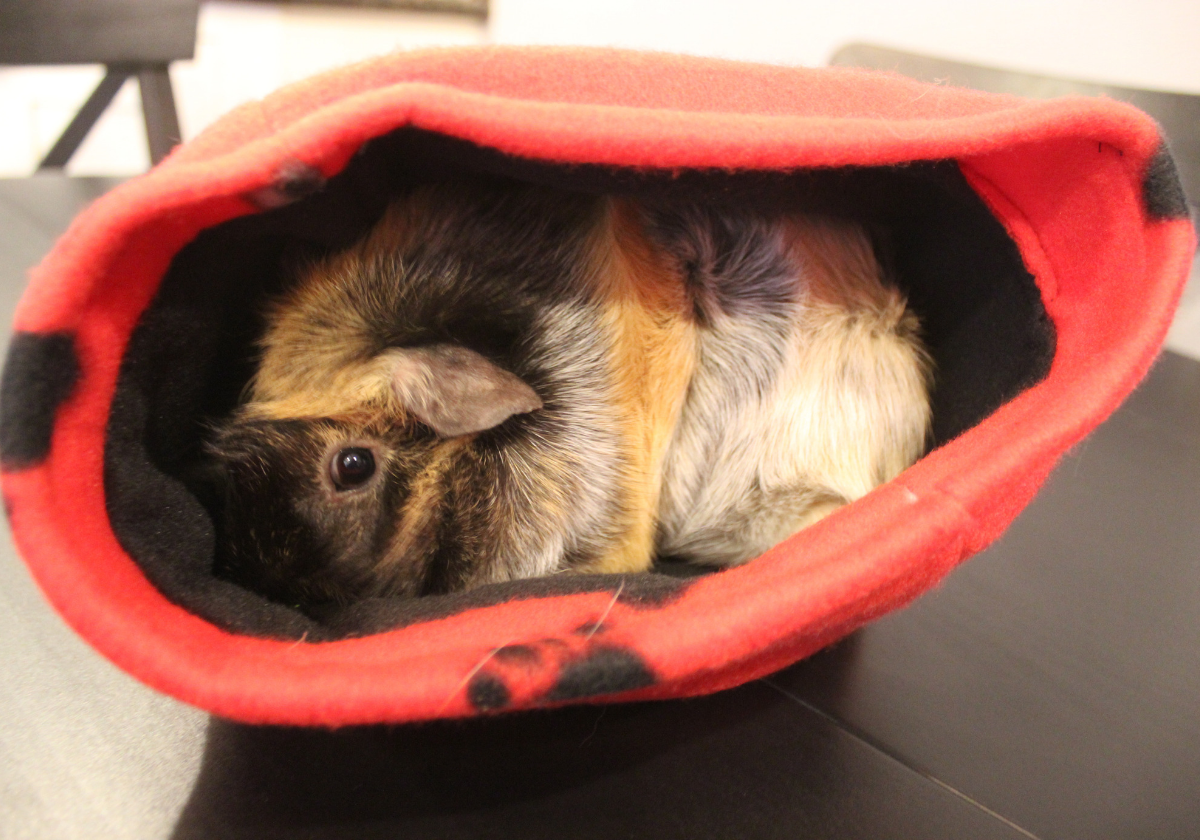 I was surprised at how much they loved them! Without hesitation, they climbed right into the sacks and slept in them all day. My older cousin had four pet rats and she asked if I could make some hammocks for her. I said, "Sure, how hard could it be?"
I went to the local fabric store, bought some fleece, and sewed a bunch of different kinds of hammocks for her female rats. The "girls" loved them, often piling into one hammock on top of one another.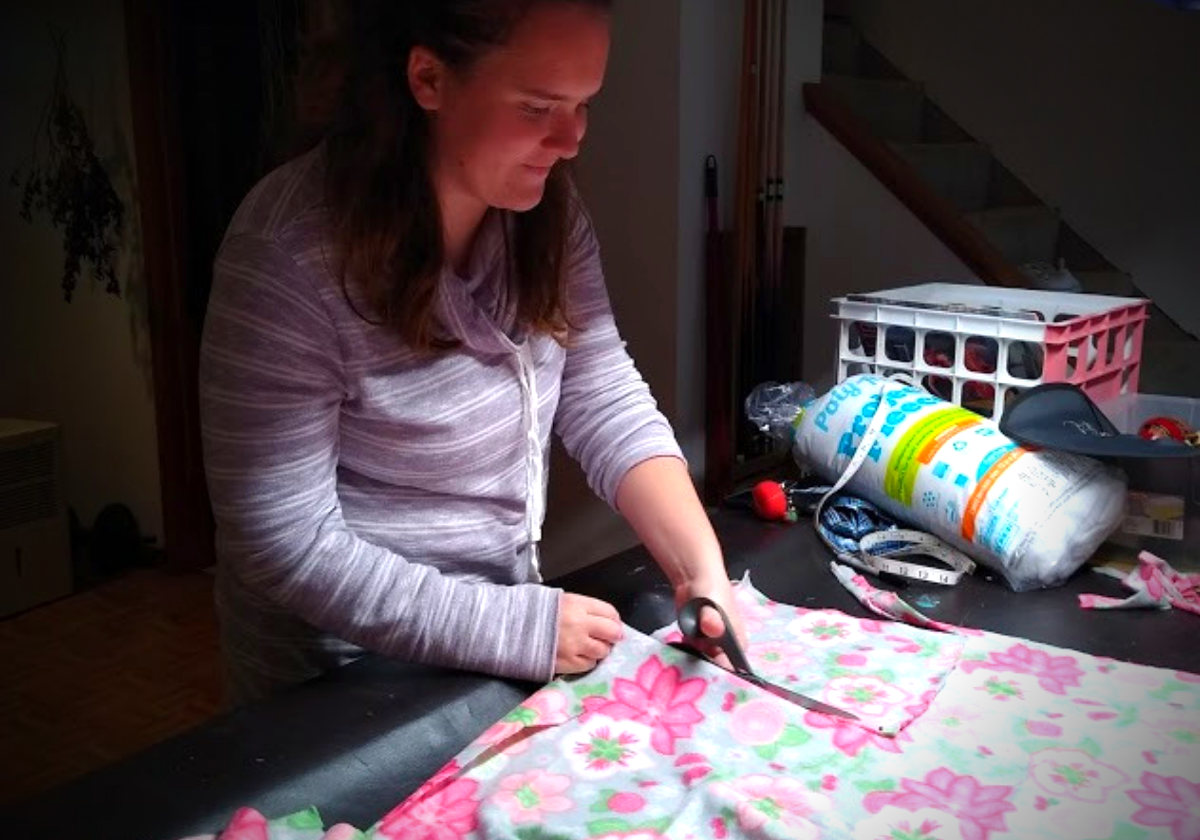 My mom was impressed by my snuggle sacks and hammocks and told me I should start an Etsy store. I was familiar with Etsy and had shopped there before, but I didn't know anything about opening my own shop.
I did a bunch of research about what I would need, what I should make, and how I should optimize the use of my listings. In October, I launched K.C.'s Snuggle Shop on Etsy, which has been very fun and a good way to make use of my downtime this year.
I have quite an inventory now – including single layer and double-decker "honeycomb houses," tunnels, sleep sacks, hammocks and more -- in a variety of fabrics, including recently added holiday fleece, and sizes for pets from hedgehogs to guinea pigs to ferrets, rats, hamsters and chinchillas. Everything is washable and the hammocks and tunnels come with hooks so they can be clipped to the cage.
I really love making products for small animals and I hope someday to see photos of happy pets enjoying the things I've made. Check out my shop here:

Want to open your own Etsy shop?
If you're interested in starting an Etsy shop, here are 12 tips I've learned along the way:
1. Gather your supplies. Not only do you need the materials to make your products, but also marketing materials, like business cards and/or stickers (I made mine at VistaPrint), mailing materials (durable plastic envelopes or boxes), and a packaging scale (more on that below).
2. Find a measuring tape. You will have to measure the height, width, and length of your product. Etsy requires this when creating a listing for your store.
3. Buy a small postal scale. I found one on Amazon for $20. You really do need one because Etsy requires the weight of your entire product, including packaging.
4. Consider a freebie. Many Etsy shops include a small treat or item with each product they sell. I include a couple of guinea pig treats with my products.
5. When you're ready to go, open an Etsy seller account, which starts by creating a listing. You'll need good photos of each of your products. Try to photograph them on a neutral background and include photos of the item in several angles and, in use, if possible.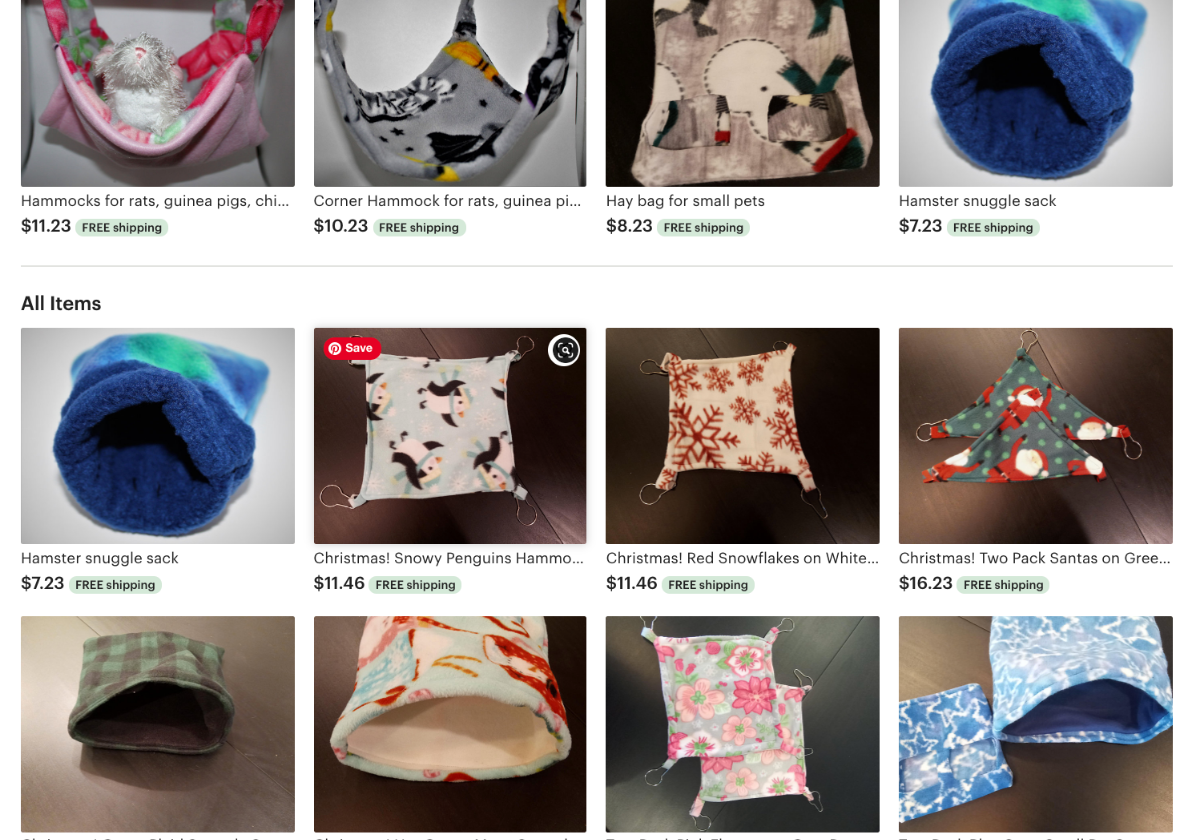 6. Create a short and sweet shop title that, preferably, includes the name of the product you sell, i.e. Kacy's Fabric Pet Collars.
7. Listings are 20 cents each, but the more listings you have, the greater chance your shop will be seen and promoted by Etsy. Try to include as much information about your product as possible in the description, including exact dimensions, pattern/material used, and possible uses for the product. Note: Etsy has a lot of little fees on things, but nothing is more than $1.
8. Search Engine Optimization is everything. These keyword tags (known as SEOs) are the most important part of your listing. Etsy gives you 13 of these, so use them wisely. Make sure to have unique SEOs, but not so unique that no one will ever find them. I try to include the colors of my items and what they are made of. These SEOs will bring customers to your shop, so it is important to use all of them.
9. Etsy gives you 13 tags for materials that you can use to show variations of your product. To provide choices for items I sell, I use variations to display different options. I give my customers three options -- girl, boy, or gender-neutral pattern -- for my general items.
10. To set prices, start by calculating how much it costs to make your item, find an estimated postage cost, and then see what other people charge for similar items. You don't want to be much higher or lower than everyone else
11. The last thing you'll need to do is pick a shipping method. Etsy offers a lot of guidance on this. I ultimately went with the U.S. Postal Service through Etsy. I purchase and print my shipping label from Etsy, then tape the label onto the packaging with clear tape covering the entire paper label. Tip: Create a USPS account so you can request pickup at your house, so you don't have to go to the post office.
12. If you have a little money to invest, Etsy ads will bring more customers to your store. If not, then focus on marketing through social media channels like Facebook, Instagram and Pinterest.
Kelly Cass, 19, lives in Erie. Check out her Etsy store, K.C.'s Snuggle Store! Her creations make the perfect holiday gift for the hedgehogs, guinea pigs, ferrets, rats, hamsters and chinchillas in your life!