It's officially that time of year when frozen fish sticks traditionally make their way into the grocery carts across America, as moms attempt to come up with Friday meal solutions during the Lenten season.
If you're not familiar with Lent, it begins on Ash Wednesday and lasts until Easter Sunday. It is a religious observance that is characterized by prayer, repentance, and fasting. Lent is observed by Roman Catholics, Eastern Orthodox, and some Protestant churches. During the Lenten season, many Christians refrain from eating meat on Fridays.
My family observes Lent, so finding appropriate meal solutions becomes an important part of my weekly meal planning routine this time of year.
While frozen fish sticks are okay for the kids now and again, I generally look for meatless recipes that are a bit elevated, yet are still kid-friendly and adult-approved. There are so many creative recipe ideas out there, and I'm going to share a few of my favorites below.
First, let me tell you about Safe Catch Tuna, a product I was recently introduced to. It has become a Lenten pantry staple and is the star of the recipes I'll share today.
Safe Catch Tuna is a sustainably-caught superfood that the whole family will love.
This isn't your average can of tuna we're talking about.
Safe Catch hand cuts and hand packs solid wild tuna steaks to seal in all the natural oils and nutrients and slow cook each one just once for an amazing taste. There are no additives and fillers. Safe Catch tuna isn't drained upon opening, you simply empty it into a bowl, chop up the steak, and mix it, allowing the tuna to reabsorb its natural juices and Omega-3s for a moist and delicious taste.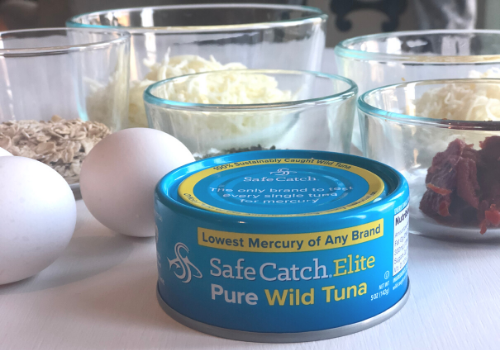 Pregnant? I have some good news — Safe Catch Elite is a new tuna that is made for pregnant women and children. Safe Catch invented a new technology to become the only brand that tests every fish for its mercury level.
It is so good for you, in fact, that Safe Catch is the official tuna of the American Pregnancy Association, and Safe Catch Elite and Safe Catch Ahi are the only tuna on the market to meet the "low mercury" criteria set by Consumer Reports for vulnerable populations like pregnant women and young children.
Here are two of my family's favorite Safe Catch tuna recipes that will be in our Friday meal rotation this Lent, and have found a permanent place in my regular meal rotation the rest of the year too:
---
Tuna Pizza Bites

First up is Tuna Pizza Bites. One of our normal go-to meals on Friday nights during Lent is pizza, so when I saw this recipe I had to try it. I'm not going to lie though — I wasn't sold on the idea of tuna in pizza form.
But the recipe was simple and I had all the ingredients on hand, so I went for it. The Tuna Pizza Bites turned out to be delicious, the whole family loved them. Quick, easy, and a crowd-pleaser, so I'll be making them again soon.
Tuna Pizza Bites Ingredients: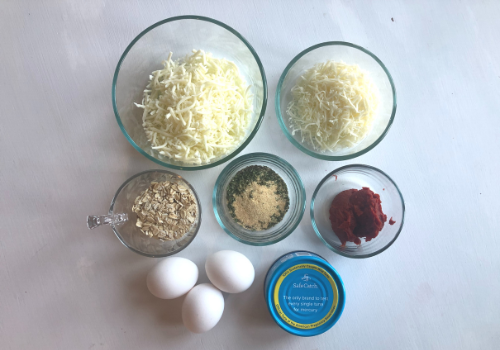 3 large eggs
3 tbsp tomato paste
1 tsp dried parsley
1 tsp dried basil
1 tsp garlic powder
¼ cup quick oats
½ cup grated parmesan
1 cup grated mozzarella
Cooking spray
Kitchen tools you'll need:
Medium & small mixing bowls
24 count mini muffin tin
1 small cookie scoop or spoon
Measuring spoons & cups
Instructions:
Preheat oven to 350 degrees F
Lightly spray a 24 count mini muffin tin with cooking spray and sprinkle a dusting of grated parmesan cheese in the bottom of each cup
Open a can of Safe Catch Elite Wild Tuna (do not drain!), flake with a fork in can until all liquid is absorbed by tuna, then empty into a medium mixing bowl, with other wet ingredients of 3 eggs and tomato paste.
Add quick oats and dry spices to the mixing bowl, with half the mozzarella and any remaining parmesan, then mix with a fork until all ingredients are combined.
Use a small cookie scoop or tablespoon to place the pizza bite mixture into the 24 muffin tin cups and bake for 12 minutes.
Top pizza bites with remaining mozzarella and bake for 4-6 mins or until cheese has browned.
Remove pizza bites from the oven and let cool, until a table knife easily removes each bite.
Serving suggestion:
Share immediately with a fresh green salad. Serve with a bowl of marinara sauce for an added kick.
---
Avocado Tuna Salad and Zucchini Bruschetta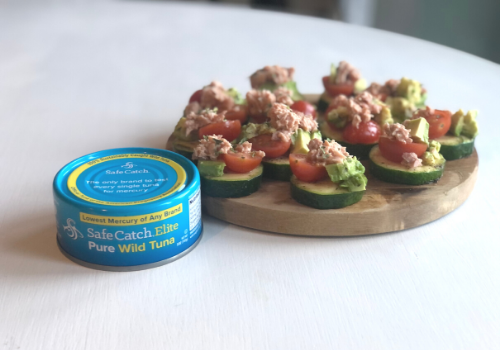 Next, I made a little recipe for my husband and myself, the Avocado Tuna Salad and Zucchini Bruschetta. We both loved that this dish is made with a simple list of fresh ingredients, but that it's served as a warm dish since the zucchini are grilled or pan-seared. This a great meal solution for those looking for Whole30 or Paleo-approved recipes.
Avocado Tuna Salad and Zucchini Bruschetta ingredients: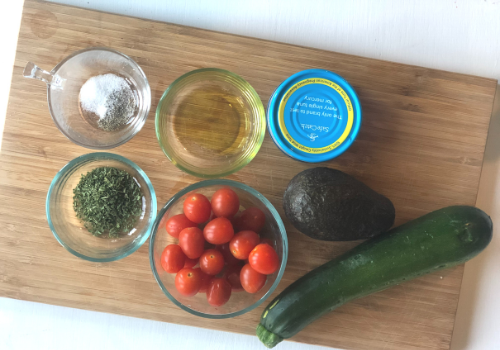 1 can Safe Catch Elite Wild Tuna
1-2 medium zucchini
1 cup cherry tomatoes
1 avocado
1 tbsp fresh parsley
½ tbsp olive oil
Salt & pepper to taste
Tools you'll need:
Medium mixing bowl
Chef's knife
Cutting board
Frying pan or grill
Spatula
Measuring spoons & cups
Instructions:
Rinse cherry tomatoes, zucchini, and parsley, then cut zucchini into ¼ inch rounds, halve cherry tomatoes, finely chop parsley, and peel and cube avocado.
Place zucchini rounds in oiled frying pan or grill over medium-high heat until edges are slightly softened or sear marks appear. Salt and pepper to taste (Reserve).
Open can of Safe Catch Elite Wild Tuna (do not drain), flake with a fork until all liquid is absorbed by the tuna, then empty into a medium mixing bowl.
Add all ingredients, except zucchini, into mixing bowl and gently stir until combined.
Plating: Scoop tuna salad on top of each zucchini round.
Serving suggestion:
Share this appetizer for two or double the recipe to share with friends and family as an anytime favorite.
---
Want more delicious tuna recipes? Safe Catch has put together a great resource, this Kid-Friendly recipe book, listing 5 great recipes that would be perfect for Lenten meals. You can find these recipes and more at https://safecatch.com/recipes/.