Erie now has its own Music Together® Center in three convenient Erie County locations and online! This is great news for parents and caregivers of babies, toddlers and preschoolers looking for ways to meet up with their little ones and make music and get moving together .. all while making new friends. We are especially lucky in Erie because Mary Bowen, who is opening the Music Together Center, is an experienced Music Together instructor and trained professional singer.
Music Together With Ms. Mary begins the weeks of Dec. 13 and Jan. 3 with 18 preview classes at Tumble 84, Unitarian Universalist Congregation of Erie, and Fairview Presbyterian Church. There are also virtual classes available.
---
Upcoming free demo classes for children ages 0-5, with a caregiver:
Dec. 13: Virtual Music Together Demo Class | Dec. 14: Music Together Demo Class at Tumble 84 | Dec. 15: Music Together Demo Class at Tumble 84 | Dec. 16: Music Together Demo Class at Unitarian Universalist Congregation of Erie | Dec. 17: Music Together Demo Class at Unitarian Universalist Congregation of Erie | Dec. 18: Music Together Demo Class at Fairview Presbyterian Church
---
The first ten-week semester of classes starts on January 10, 2022, at all three locations. Choose the location or times that are most convenient for you!
Register now for a free preview class and then sign up for a full 10-week semester to be entered into a raffle for a full refund! That's right — you could win a FREE 10-week class!
(Psst! A full 10-week session would make a great "experience" gift from the grandparents this holiday season! Get gift certificates here!)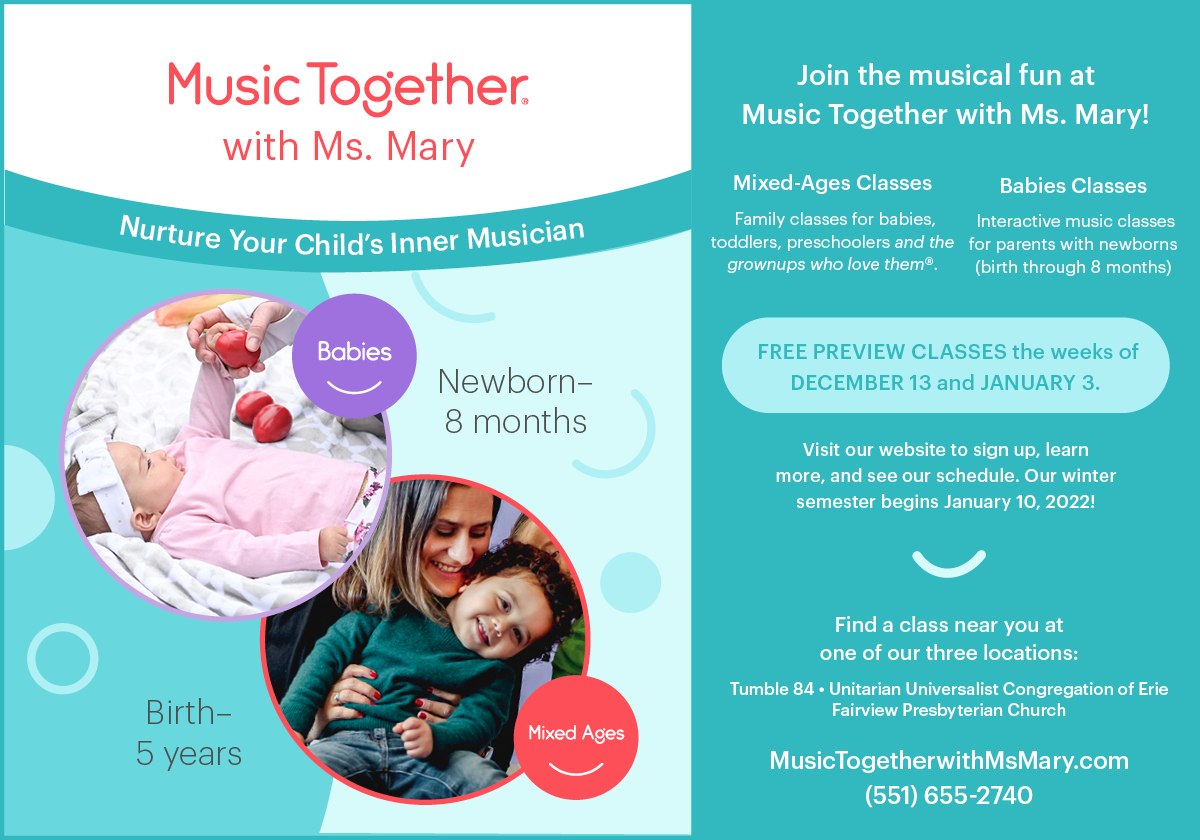 Macaroni KID Erie was happy to chat with Erie's Music Together Director Mary Bowen about the new offerings in Erie, Pa. for parents with young kids.
Macaroni KID: Why did you decide to open your Music Together Center in Erie?
Mary Bowen: Music Together's early childhood music and movement classes are phenomenal, and I am excited to introduce our wonderful program in three different locations that are convenient for the Erie community and online. Music Together is celebrating over 35 years of changing lives with bringing music-making back to a normal, every-day activity in homes all over the world. I've seen firsthand that when children witness their adults making music a fun priority in their daily routines at home, the children will follow suit!
MK: What is Music Together and why is music important to a child's early learning?
Our research-based music classes are designed to be non-formal and non-performance oriented, so your child can learn at his or her own pace, in a way that's developmentally appropriate. Music Together, in particular, is an internationally recognized early childhood music and movement program for children birth through grade two. The Music Together curriculum offers programs for families, schools, at-risk populations, and children with special needs in more than 3,000 communities in over 40 countries. The company is passionately committed to bringing children and their caregivers closer through shared music-making and helping people discover the joy and educational value of early music experiences. I'm excited to bring Music Together With Ms. Mary to Erie!
MK: What will families get out of taking part in Music Together?
MB: All children can learn to sing in tune, keep a beat, and participate with confidence in the music of our culture, provided that their early environment supports such learning. Music Together brings families together by providing a rich musical environment in the classroom and facilitating family participation in spontaneous musical activity at home within the context of daily life. Families get so much out of these classes. One of the biggest benefits – and it is SO needed right now – will be the community building aspect and new friendships will be made.
MK: Tell us about you. What's your background?
MB: I have been teaching Music Together consistently since 2014 in NYC after attending classes as a parent to my then 7-month-old daughter. Fast forward to my family's move to Erie, PA in the summer of 2021 ... and I decided to found my own center! I'm a classically trained singer and have performed on many professional opera company and concert symphony stages throughout the US, Europe, and Mexico. I also hold a Master of Music in Vocal Performance and an Artist Diploma in Opera Performance from the Cincinnati College-Conservatory of Music and a Bachelor of Music in Vocal Performance from The University of Texas at San Antonio. But mostly I'm passionate about sharing this program and helping others support their child's musical journey!
By enrolling in the children's music program, you'll experience a whole semester of playful ways to make music with your children, and you'll surprise yourselves by actually becoming a musical family!
Classes are all led by Ms. Mary, who holds Certification Level I status as a Music Together teacher, having demonstrated outstanding achievement in teaching, musicianship, program philosophy, and parent education.
Tuition includes the Semester Songbook, CD and a personal code to download the corresponding music into our free "Hello Everybody" App.
You'll also get exclusive online access to Music Together's Family Music Zone® where you'll find videos, content, and more activities to go with the songs, and a Family Newsletter full of resources and music-making ideas.
Families new to Music Together will also receive a book called "Music & Your Child," which is an amazing resource guide to understanding music development in your child.
At Music Together With Ms. Mary, you're guaranteed to learn new songs and music activities to inspire you to bring music into your family's everyday life!
For more information about Music Together With Ms. Mary classes and to register for a Free Preview Class or the Winter 2022 Semester, call (551) 655-2740 or click here now!