Friendship building, focused learning, faith development, and fun at WLD Ranch give your campers a taste of life at its fullest and teach them valuable lessons to impact their lives.
WLD Ranch (both day camp and overnight camp options) is an experience your campers won't soon forget – Skill Tracks, hayrides, campfires, skit night, and more! Choose from Pathfinder Round-ups (grades 3-12), Trailblazer Round-ups (grades 6-12), or our Tenderfoot Round-up (K-grade 4) to select the right camp for your children.
Don't forget about Family Camp - the whole family can make memories to last a lifetime!
Summer Camp
Summer Camp at WLD Ranch is an experience your campers won't soon forget. The unique mix of friendship building, focused learning, faith development, and fun activities gives your campers a taste of life at its fullest. WLD Ranch summer staff will welcome your campers into camp life and return them to you with memories that will last a lifetime.
Choose from our Trailblazer, Pathfinder, and Tenderfoot overnight camps or select one of our day camp options if your camper isn't quite keen on the idea of staying overnight. We also offer our Family Camp for campers of all ages. Which Round-ups will work for your family?
*Now you can pay your deposit online through Paypal. Go to the registration page.
*Go HERE to download registration forms. If you would like us to send you a Summer 2021 brochure in March, please use the contact form to join our mailing list.
*REGISTER BY MARCH 30 for a discount. Click here for details on all summer camp discounts.
*How can I save money and still send my children to summer camp at WLD Ranch? Read this letter.
---
Summer Camp 2021
Don't forget that you can pay a deposit now and then submit your registration forms by March 30 to receive the early registration discount.
| | | |
| --- | --- | --- |
| Summer 2021 | Schedule | Prices |
| Round-up #1 | June 20-25 Jr High Trailblazer (gr. 6-9) | $389.00 |
| Round-up #2 | June 27-July 2 Junior Pathfinder (gr. 3-6) | $354.00 |
| Round-up #2D | June 28-July 2 Junior Pathfinder (Day Camp) (gr. 3-6) | $256.00 |
| Round-up #3 | July 4-9 Teen Pathfinder (gr. 7-12) | $354.00 |
| Round-up #3D | July 5-9 Teen Pathfinder (Day Camp) (gr. 7-12) | $256.00 |
| Round-up #4 | July 11-16 Junior Pathfinder (gr. 3-6) | $354.00 |
| Round-up #4D | July 12-16 Junior Pathfinder (Day Camp) (gr. 3-6) | $256.00 |
| Round-up #5 | July 18-20 Tenderfoot (K-gr. 4) | $194.00 |
| Round-up #5D | July 19-20 Tenderfoot (Day Camp) (K-gr.4) | $144.00 |
| Round-up #6 | July 23-25 Family Camp (all ages) | see registration |
| Round-up #7 | August 1-6 Teen Trailblazer (gr. 8-12) | $389.00 |
| Round-up #8D | August 9-12 Explorer Day Camp (gr. 4-8) | $210.00 |
---
Trailblazer
The Trailblazer Round-ups #1 and #7 are more intense than your typical week of camp, allowing junior high and teen campers to spend additional time in their chosen Skill Track. Mornings are devoted to the Trailblazer Skill Tracks, which are called Trails. Each camper will choose one of three Trails: Wrangler Week, Adventure Camp, or Target Sports Camp. Afternoons allow for optional activities while evenings involve camp-wide activities such as games, Bible Round-Up, and more.
Pathfinder
Our Pathfinder Round-ups #2, #3, and #4 offer a balance of learning, games, and other activities that allow campers from 3rd through 12th Grade to experience WLD Ranch to the fullest. Mornings are devoted to Bible Round-Up as well as Pathfinder Skill Tracks, which are called Paths. Each camper will choose one of five Paths: Adventure Team, Archery, Horsemanship, Outdoor Skills, or Riflery. Campers also look forward to guest speakers, skit night, campfires, and hayrides. For more information on specific camp activities, including Skill Tracks and Bible Round-Up, read this description (from summer camp 2020). You may also want to read about our Photo Packages. Here is a sample of our daily schedule.
Tenderfoot
Tenderfoot Round-up #5 is designed with our younger campers (and their parents) in mind. By considering the needs of the children in this age group, we give campers a "well rounded" taste of camp life.
Pre-Junior campers sample activities such as horse rides, challenge course activities, Bible Round-Up, swimming, archery, and more. Group activities, freetime events, and Bible lessons are all aimed at meeting the needs of our younger campers in a 3-Day/2-Night stay.
---
Wrangler Weeks appeal to the ultimate horse lover. This camp's emphasis is on horses – learning more about them and improving riding skills with more horse time than a regular week of camp. Campers continue to progress through WLD Ranch's Horsemanship Program during their specialty week. (Please note: Round-up #7 is for campers who have already taken Horsemanship classes or Horse Riding Lessons at WLD Ranch.)
Adventure Camps include challenge courses, bouldering, canoeing, harnessed tree climbing, and more. Junior High Adventure Camp (RU#1) is based entirely at WLD Ranch. Teen Adventure Camp (RU#7) includes lively adventures on and off WLD property: TBD continue watching until we have determined where we will be having our adventure this year.
Target Sports Camps focus on developing skills in archery (recurve bows), tomahawk throwing, and riflery (.22 bolt action rifles). Campers will learn safety and proper handling procedures, improve their aiming and accuracy, and enjoy hands-on demonstrations from guest presenters. Guest presenters will discuss topics such as arrow making, atlatls, and a variety of actions and calibers of firearms.
---
Family Camp, July 23-25
Bring your whole family to summer camp! Enjoy loads of WLD Ranch style family fun for the weekend of July 23-25.
Weekend activities will include hayrides, horse rides, family electives (may include canoeing, lasso and trick rope demonstrations, team challenge course, outdoor skills, and more), freetime activities (such as swimming and archery), singing and devotions (speaker: TBD), and more. Family Camp includes three meals on Saturday and two meals on Sunday.
Saturday evening's Theme Night for Family Camp 2021 is the Wild West, so strap on your spurs and get along little doggies! Dress your whole family up in your best western wear for some appropriately themed cowboy meals and games.
Explorer Day Camp, August 9-12
For those of you who would like to try something a little bit different than our typical week of camp, this week may be for you! As a Day Camp only option, campers will arrive at 9:00am to begin activities and depart at 4:00pm. Throughout the day, campers will enjoy a unique focus on Skill Tracks by choosing two of six Skill Tracks (one in the morning and one in the afternoon). They will also have a morning Bible lesson, lunch, and free-time activities.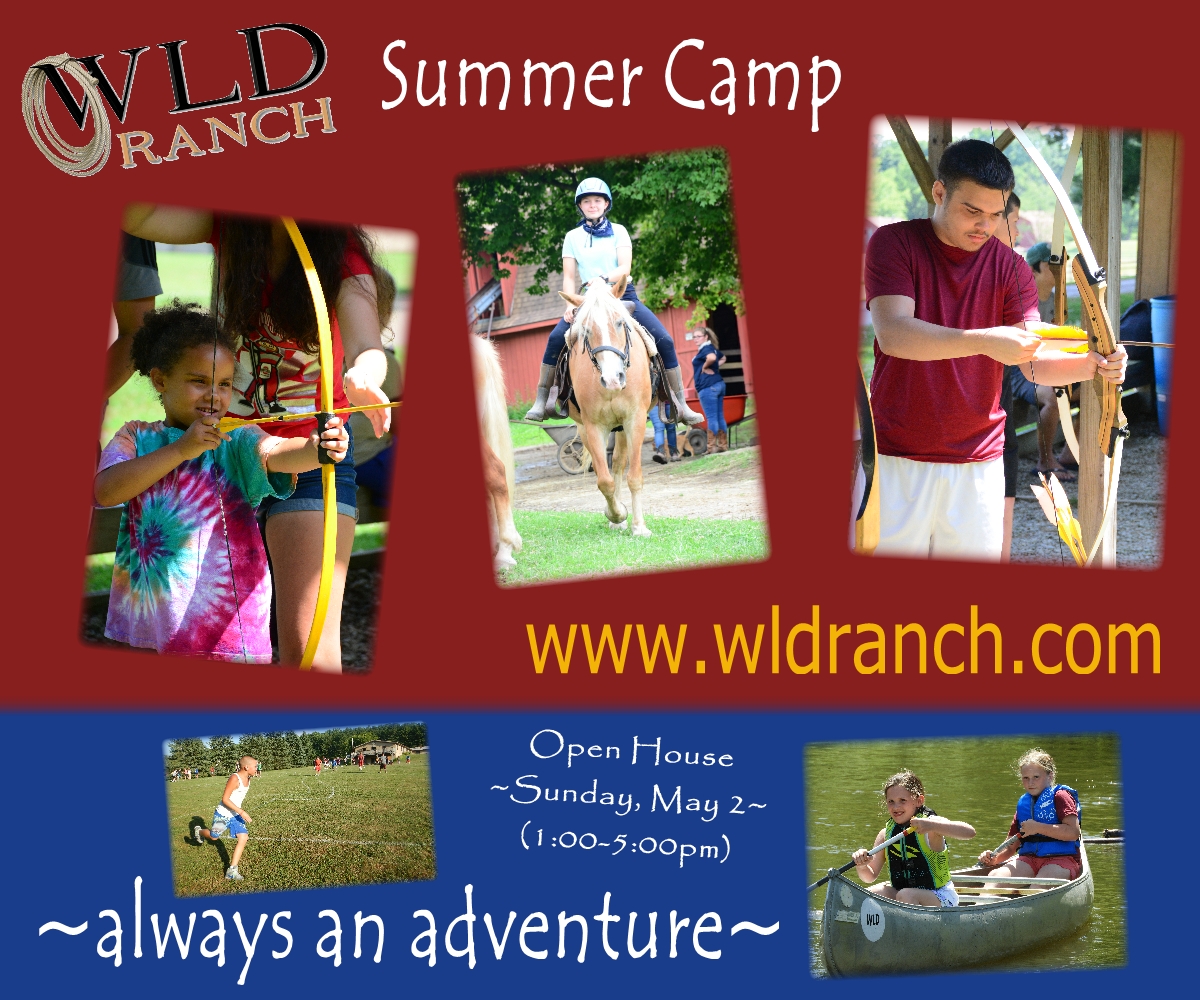 🌸🌸🌸
Business Review
For testimonies from parents of summer campers, click here.