My 7-year-old son grabbed at the imaginary chocolates, pretending to stuff them into his mouth à la the classic scene from "I Love Lucy." It was a good thing they weren't real, because he was laughing so hard he would have spewed them all over the floor.
Welcome to the National Comedy Center in Jamestown, N.Y., where the whole family can spend hours laughing -- and learning -- about the art, the history, and the people of comedy.
This world-class museum opened in Lucille Ball's hometown last August. I'd had a chance to visit when it was under construction and was curious to see if the ambitious vision for the $50 million museum laid out for us then by Executive Director Journey Gunderson had come to fruition.
Has it ever.
A personalized comedic experience
The National Comedy Center includes more than 50 interactive exhibits designed to both educate and entertain. There are plenty of laughs to be had here -- but there's also a true appreciation for the history behind the art of comedy.
The technology is mind-boggling: Most of the high-tech exhibits are personalized through a wristband that includes a computer chip. Upon entry to the museum, you head to a kiosk and identify what comedians and shows you love. The video clips, jokes and other entertainment you're shown as you move through the museum are based on those selections.
Kid-friendly laughs
I was afraid the museum wouldn't be overly kid-friendly, but I shouldn't have been worried. We spent nearly four hours at the museum and still had to drag our 7- and 9-year-olds away!
Some of my kids' favorite exhibits included:
Drawing cartoons, where they got to learn how to create a character.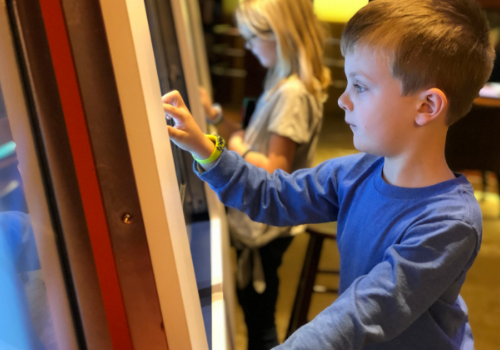 Using common comedic movie props -- think whoopie cushions, anvils and banana peels -- to see clips and comics of those props in action through the years, from black and white silent movies to South Park.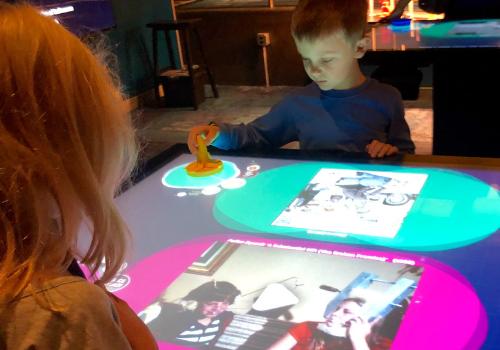 Making funny faces to try to match our favorite comedian's mug.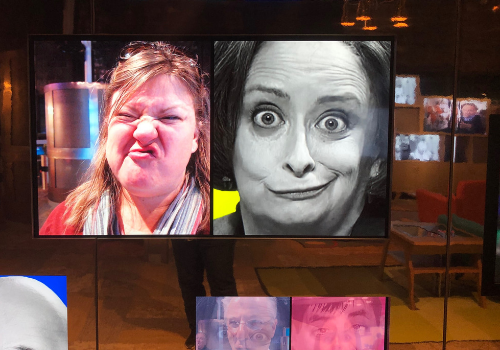 Taking part in a Laugh Battle, where the competitor who laughs last wins (Turns out mostly we made each other laugh by making funny faces from trying not to laugh!)
Inserting ourselves into a classic "I Love Lucy" scene.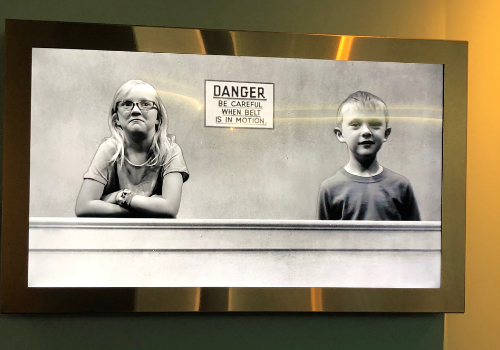 Trying their hand at stand up (luckily it was a kind audience!)
They also got great giggles from adding sound effects to movie clips (the farting cowboys were their favorites!) and creating their own memes.
The Comedy Center is no joke
My husband and I were continually bowled over by the technology on display throughout the museum. The wristbands were amazing enough. Add to that a Jim Gaffigan hologram who gives a 12-minute talk on the trajectory of his career, the 60-foot touchscreen wall that allows visitors to explore the interconnectedness of the comedy industry (hint: It all seems to lead back to SNL), and even a joke box at the end that spat out jokes personalized as keepsakes for us to take home.
The artifacts here are also fun, starting with the motorcycle driven by Dan Aykroyd to the SNL studios in the 1970s in the lobby to the baby carrier worn by Zach Galifianakis in "The Hangover." There's also an impressive display dedicated to George Carlin, whose daughter donated 25,000 pieces of his estate to the museum.
But while the artifacts are fun to look at -- don't miss Jerry Seinfeld's "puffy" shirt! -- it's the technology and interactive exhibits that truly make this museum unlike anything I've visited before. The National Comedy Center is truly a world-class museum -- and that's no joke.
If you go: The National Comedy Center is open from 10 a.m. to 5 p.m. Sunday through Thursday, and 10 a.m. – 9 p.m. on Friday and Saturday. Tickets cost $25.50 for adults; $23.50 for seniors, $18.50 for youth and $12 for children ages 6 to 12. There are also discounts for military and Chautauqua County residents.
Please note: While my family's time at the National Comedy Center was hosted, opinions are purely my own.
🌸🌸🌸